3 Search Results Found For: "Cottage license"
Page Title: EHS Applications
Page Content:
Your permit may have been extended. Please check the expiration date of your permit before applying/renewing. 
Welcome to EHS's applications page. Please contact us if you have questions regarding what application(s) you need and the current fees.
You can submit Temporary Food Facilities (TFFs) applications via:
Email: TFF@dph.sbcounty.gov
Fax: 909.387.4323
Mail: 385 N. Arrowhead Ave, 2nd Floor San Bernardino, CA 92415
You can submit all other applications via:
Email: EHS.CustomerService@dph.sbcounty.gov
Fax: 909.387.4323
Mail: 385 N. Arrowhead Ave, 2nd Floor San Bernardino, CA 92415
Charitable Feeding Operations
For more information click here
Page Link: https://wp.sbcounty.gov/dph/programs/ehs/applications/
---
Page Title: Care of Dogs
Page Content:
Being a responsible dog owner involves exercising him, providing him with companionship, having her or him spayed or neutered, keeping a collar and ID tag on him, and meeting the basic needs of food, water, and veterinary care. A pet is your responsibility to love and care for from the day he arrives until the day he dies. 
Feeding
Premium-quality dry food provides a well-balanced diet for adult dogs and may be mixed with water, broth or canned food. Your dog may enjoy cottage cheese, cooked egg, fruits and vegetables, but these additions should not total more than ten percent of his daily food intake.
Puppies should be fed a high-quality, brand-name puppy food. Please limit "people food" because it can result in vitamin and mineral imbalances, bone and teeth problems and may cause very picky eating habits and obesity. Clean, fresh water should be available at all times, and be sure to wash food and water dishes frequently.
Feeding Schedule:
Puppies 8 to 12 weeks old need 4 meals a day
Puppies 3 to 6 months old need 3 meals a day
Puppies 6 months to one year need 2 meals a day
When your dog reaches his first birthday, 1 meal a day is usually enough
For some dogs, including larger canines or those prone to bloat, it's better to feed 2 smaller meals
Exercise
Dogs need exercise to burn calories, stimulate their minds, and keep healthy. Exercise also tends to help dogs avoid boredom, which can lead to destructive behaviors. Supervised fun and games will satisfy many of your pet's instinctual urges to dig, herd, chew, retrieve and chase. Individual exercise needs vary based on breed or breed mix, sex, age and level of health. If your dog is a 6 to 18-month adolescent, or if she is an active breed or mixed-breed from the sporting, herding, hound or terrier groups, exercise needs will be high.
Grooming
You can help keep your dog clean and reduce shedding with frequent brushing. Check for fleas and ticks daily during warm weather. Most dogs don't need to be bathed more than a few times a year. Before bathing, comb or cut out all mats from the coat. Carefully rinse all soap out of the coat, or the dirt will stick to soap residue. For more information, view the ASPCA site's grooming tips.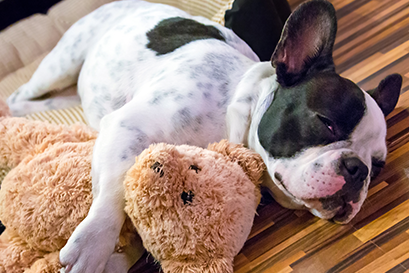 License and ID
Follow your community's licensing regulations. Be sure to attach the license to your dog's collar. This, along with an ID tag and implanted microchip or tattoo, can help secure your dog's return should he become lost.
Spaying and Neutering
Females should be spayed—the removal of the ovaries and uterus—and males neutered—removal of the testicles—by 6 months of age. Spaying females reduces the risk of breast cancer and prevents an infected uterus, both serious medical problems. Neutering males prevents testicular and prostate diseases, some hernias and certain types of aggression. To locate low-cost spay and neuter services contact the Pet OverPopulation Coalition (POPCO) or SpayCalifornia for information.
Cost
The annual cost of a small dog— including food, veterinary care, toys and license— is $420. Make that $620 for a medium dog and $780 for a large pooch. This figure doesn't include capital expenses for spay/neuter surgery, collar and leash, carrier and crate.
Page Link: https://wp.sbcounty.gov/dph/programs/acc/caring-for-animals/dogs/
---