August 2017
Volume 7, Issue 1
Inspections of Public Swimming Places
Summer is here and that means inspectors from the Department of Public Health, Division of Environmental Health Services (DEHS) are inspecting all public swimming places in San Bernardino County. Public swimming places include any public pools, spas, water parks, waterslides, lakes, and lagoons. Inspectors are looking for health and safety hazards in and around the swimming area. For public pools and spas, water is routinely tested for chlorine, pH, cyanuric acid, and clarity. Public swimming areas at lakes are tested for pH and bacterial counts. In addition to routine inspections, we routinely send staff to conduct safety surveys at public swimming places for basic safety issues such as fence and gate hazards, electrical and lighting hazards, water clarity, and other imminent health threats.
To learn more about inspections of public swimming pools, please visit DEHS Public Swimming Pools website.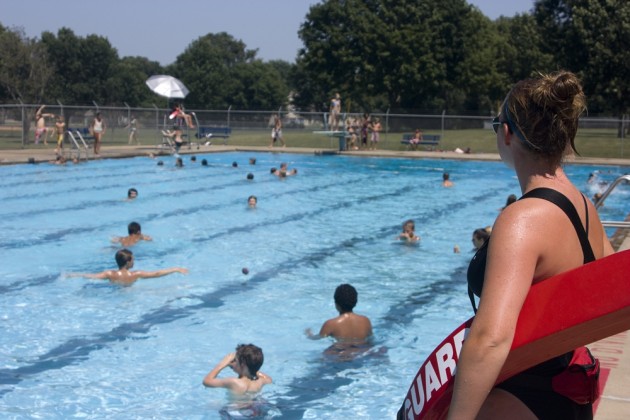 Safe and Healthy Swimming
Swimming is one of the most popular water sports in the United States. In San Bernardino County alone, there are about 3,000 public swimming pools and spas, several waterslides, lakes and lagoons, plus many private backyard pools.
Did You Know?
Drowning is the leading cause of death for children 1 – 4 years of age.
Swimming with diarrhea, a cough, cold sore or bandages could be a hazard for other swimmers.
Water can be contaminated with bacteria that cause illness and disease, such as hepatitis, dysentery, and cholera.
All bathers are at risk when they swim in contaminated water.
Bacteria can enter water by dust, leaves, wind, rain, people, and animals.
Water not kept in proper chemical balance could cause eye and skin irritation to swimmers and damage to pool equipment.
Public swimming areas must have safety equipment, including a life hook, life ring, and first aid kit.
Public and private pools must be completely surrounded by a proper enclosure.
Public pools using covers must have DEHS approval before they can be installed.
To learn more about safe and healthy swimming, please visit the Centers for Disease Control and Prevention (CDC) Healthy Swimming website.