Sharps Container Disposal
Home-Generated Sharps Waste
Protect your family and the environment by properly disposing of sharps and needles. San Bernardino Public Health Laboratory accepts home generated sharp biohazardous waste for disposal free of charge for San Bernardino County residents.
How to properly dispose sharps or needles?
Use only approved sharps containers or smaller heavy-duty plastic container (look "How to Safely Dispose Sharps") : San Bernardino Public Health Laboratory, in collaboration with San Bernardino County Fire Department, is providing San Bernardino County residents with approved sharps containers. Please, do not place sharps in cans, bins or other non-approved containers. Please, do not mix sharps with other waste such as medications.
Do not overfill sharps container—¾ capacity of the approved container is considered full: Approved containers usually mark the required capacity with the label "Do not fill above this line" or "Fill line".
Securely close sharp containers lid ensuring final lock: This step might differ between containers depending on the manufacturer. Please, read the instructions carefully (usually on the label with biohazard sign).
Carefully transport sharps container to your local Home-Generated Sharps Collection site.
We are not able to accept sharps waste from businesses.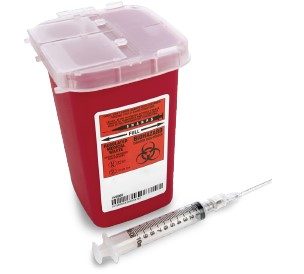 San Bernardino County Public Health Laboratory
First Floor Laboratory Receiving
Ontario Health Center
150 East Holt Boulevard
Ontario, CA 91761
909-458-9430
Accepting sharps: Monday- Friday 8:00AM- 5:00PM