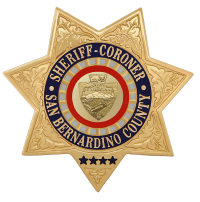 San Bernardino County Sheriff's Department
Press Release
DATE/TIME: April 14, 2018, at approximately 8:13 p.m.
INCIDENT: Attempted Murder
LOCATION: 11200 block of Chaparral Ave, Adelanto
SUSPECT: Martika Lashawn Graves, 26 years of age, of Adelanto
VICTIM: Confidential
Summary
On Saturday, April 14, 2018, at 8:16 p.m., deputies from the Victor Valley Sheriff's Station, assigned to the City of Adelanto, responded to a report of a stabbing at an apartment in the 11200 block of Chaparral Ave.
Deputy Joel Sandles arrived and learned an argument had started when the suspect, Martika Graves, refused to leave the residence. The argument became physical and Graves grabbed a kitchen knife and stabbed the victim in the chest. Graves fled from the location prior to deputies arriving on the scene.
The victim was taken to a local area hospital for treatment of his injury which was not life-threatening.
A short time later, at approximately 9:27 p.m., deputies were called back to the residence for a disturbance and found Graves fighting with the victim's daughter. Graves was arrested and transported to High Desert Detention Center. Martika Graves was booked for attempted homicide and is being held in lieu of $1,000,000 bail.
Anyone with information regarding this crime is urged to contact Deputy Joel Sandles at Victor Valley Sheriff's Station, (760) 552-6801. Persons wishing to remain anonymous can report information to WeTip by calling 1-800-78-CRIME, or by accessing the website at www.wetip.com.
Refer: Pamela Hoffman
Station: Victor Valley
Report # 241800922
Phone No: 760-552-6844
John McMahon, Sheriff-Coroner
San Bernardino County Sheriff-Coroner Department
Sheriff's Public Affairs Division
655 E. Third Street
San Bernardino, California 92415-0061
Telephone: (909) 387-3700