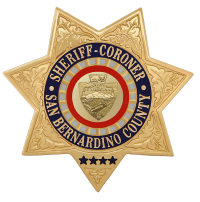 San Bernardino County Sheriff's Department
Press Release
DATE/TIME OF INCIDENT: Wednesday, April 18, 2018, at 9:30 a.m.
INCIDENT: PETTY THEFT
LOCATION: Dunes Gas Station, 11500 Block of Bartlett Avenue, Adelanto
SUSPECT: Steven Mejia, 37-years-old, Resident of Adelanto
VICTIM: Confidential
Summary
On Wednesday, April 18, 2018, at 9:30 a.m., deputies responded to a theft at Dunes Gas Station, in the 11500 Block of Bartlett Avenue in Adelanto.
The suspect, later identified as Steven Mejia, approached the victim and offered to help her put air in her tires.Mejia told the victim to go inside and ask to have the air turned on.Once the victim walked inside, Mejia entered the victim's unlocked vehicle and stole her purse.
Through the investigation, deputies were able to identify the suspect, Steven Mejia. The victim's purse was located at Mejia's residence and returned to the victim.Steven Mejia, who is currently on probation out of Los Angeles County, was arrested and booked at High Desert Detention Center for theft.
Anyone with information regarding this crime is urged to contact Sergeant Sean Struebing at Victor Valley Sheriff's Station, (760) 552-6800. Persons wishing to remain anonymous can report information to WeTip by calling 1-800-78-CRIME, or by accessing the website at www.wetip.com.
John McMahon, Sheriff-Coroner
San Bernardino County Sheriff-Coroner Department
Sheriff's Public Affairs Division
655 E. Third Street
San Bernardino, California 92415-0061
Telephone: (909) 387-3700