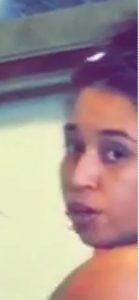 DATE/TIME OF INCIDENT: Thursday, June 7, 2018 at 1:02 pm
INCIDENT: STRONG ARM ROBBERY
LOCATION: Professional Nail and Spa, 14196 US Hwy 395, Adelanto
SUSPECT: Black female adult, 26 – 32 years of age, 5'06"-5'09", 160-200 lbs.
VICTIM: Female adult, 42 years-old, of Adelanto
SUMMARY:
Update as of 6/21/2018:
SUSPECT: Quiara Pickney, 22 years-old, of Adelanto
After seeing her picture on multiple news and social media sites, the suspect in this case, Quiara Pickney, made the decision to contact the Victor Valley Sheriff's Station.
Quiara Pickney, who is a 22year-old resident of Adelanto, was interviewed by Deputy Rogers on June 20, 2018, after she contacted him to provide her side of the story. After a thorough investigation, Pickney was arrested for robbery and booked at the High Desert Detention Center in lieu of $100,000.00 bail.
We would like to thank all our media partners and the community for their assistance on this case.
____________________________________________________________________________________
On Thursday, June 7, 2018, at approximately 1:02 pm, a black female adult had an altercation with an employee at Professional Nail and Spa located at 14196 US Hwy 395 in the City of Adelanto.
The suspect was unhappy with the service she received and pushed the employee to the ground. While the employee was on the ground the suspect took money from her hand and left the store. The suspect is described as a black female adult, between the ages of 26 & 32, 5'06 – 5'09" and approximately 160 – 200 pounds. A photo of the suspect was obtained from video taken of the incident.
The employee was not injured and did not seek medical attention. Deputy Jared Rodgers is seeking the public's assistance in identifying the suspect.
Anyone with information regarding this crime is urged to contact Deputy Jared Rodgers at Victor Valley Sheriff's Station, (760) 552-6801. Persons wishing to remain anonymous can report information to WeTip by calling 1-800-78-CRIME, or by accessing the website at www.wetip.com.
Refer: Staci Parks
Station: Victor Valley
Report # 241801484
Phone No: 760-552-6845
JOHN MCMAHON, Sheriff-Coroner
San Bernardino County Sheriff-Coroner Department