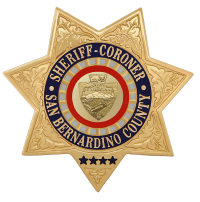 San Bernardino County Sheriff's Department
Press Release
DATE/TIME: April 3, 2018
INCIDENT: Attempt Murder
LOCATION: Serrano Road x Otoe Road, Apple Valley
SUSPECT: Andre Citizen, 51 years old, resident of Apple Valley
VICTIM(S): Confidential
Summary
On March 13, 2018 at 11:06 p.m., the victims were at their resident and were told by a neighbor a suspicious vehicle was circling the neighborhood.The victims went outside and saw the vehicle, driven by Andre Citizen and followed it while they attempted to contact law enforcement.Near the intersection of Serrano and Otoe Road, Citizen pulled his vehicle to the shoulder and stopped.The victims stopped their vehicle behind Citizen's and Citizen opened the driver's door and fired multiple rounds from a handgun at the victims.The rounds struck their vehicle several times and Citizen fled the scene.
Deputies responded to the scene, interviewed the victims and recovered evidence.Through investigation, Detectives were able to identify Citizen as the shooter and warrants were issued for Citizen's arrest and a search of his residence.
On Wednesday, March 28, 2018 Detectives and deputies from the Apple Valley Station, assisted by the Sheriff's Specialized Enforcement Division, located Citizen and arrested him without incident.A search of Citizen's residence yielded evidence connecting him to the shooting.
Andre Citizen was booked at the High Desert Detention Center on a warrant for two counts of attempted murder with bail set at $2,000,000. He is expected to appear in court on April 3, 2018.
Anyone with additional information on this case is asked to contact Detective Lopez or Detective Arreola with the Apple Valley Station.
Refer:Detective Lopez and Detective Arreola
Station:Apple Valley Station
Phone No.760-240-7400
Case No.181801426
John McMahon, Sheriff-Coroner
San Bernardino County Sheriff-Coroner Department
Sheriff's Public Affairs Division
655 E. Third Street
San Bernardino, California 92415-0061
Telephone: (909) 387-3700