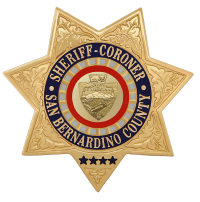 San Bernardino County Sheriff's Department
Press Release
DATE/TIME: Thursday, April 12, 2018 / 9:20 a.m.
INCIDENT: Domestic Battery / Traffic Pursuit / Attempt Murder / Attempt Escape
LOCATION: 20000 block of Nisqually Road, Apple Valley
SUSPECT: Michael Miller, 35 years from Apple Valley
VICTIM(S): Confidential
Summary
On Thursday, April 12, 2018, deputies from the Apple Valley Sheriff's Station responded to the 20000 of Nisqually Road to investigate reports of domestic battery and robbery.The suspect, Michael Miller, is on felony probation and lives in the Town of Apple Valley.Deputies observed Miller driving a large white Ford 4X4 truck and conducted a traffic stop on the vehicle.During the contact, Miller suddenly sped away, leading Deputies on a high-speed vehicle pursuit through the town of Apple Valley and onto the I-15 freeway.During the pursuit, Miller drove into oncoming traffic, ignored traffic devices and sped through construction zones at a high rate of speed.The pursuit ended when Miller sped north on the southbound lanes of I-15 and collided with a commercial truck.Miller fled on foot and was apprehended shortly after.
Michael Miller was transported to the Apple Valley Sheriff's Station where he unsuccessfully attempted to escape custody.Miller was transported to the High Desert Detention Center where he was booked for Domestic Battery, Felony Failure to Yield, Robbery, Attempt Murder and Attempt Escape.No civilians or deputies were injured during this incident.
Anyone with information regarding this incident is urged to contact Deputies J. Malocco, B. D. Faylor or Sergeant James R. Evans at the Apple Valley Sheriff's Station (760) 240-7400.
Refer:Sergeant James R. Evans
Station:Apple Valley Station
Phone No.760-240-7400
Case No.181801993
John McMahon, Sheriff-Coroner
San Bernardino County Sheriff-Coroner Department
Sheriff's Public Affairs Division
655 E. Third Street
San Bernardino, California 92415-0061
Telephone: (909) 387-3700