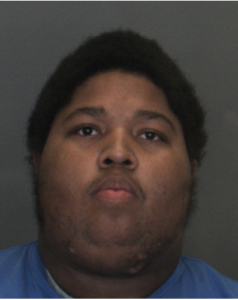 DATE/TIME: December 18, 2018
INCIDENT: PC 288(a)-Lewd and Lascivious Acts with a Child Under 14
LOCATION: 20000 black of Carlisle Rd., Apple Valley
SUSPECT: Dominique Butler, 24 years old, resident of Apple Valley
VICTIM: Confidential – 10-year-old female
SUMMARY:
On December 13, 2018, Deputy B. Clancy investigated an allegation of lewd and lascivious acts with a child under 14. Through his investigation, Deputy Clancy learned the suspect, Dominique Butler, molested a 10 year old family member. Additionally, Deputy Clancy learned Dominique Butler is employed at Lomitas Elementary School as a proctor, and has since been placed on administrative leave.
Deputy Clancy authored an arrest warrant for Butler after initial efforts to locate Butler were unsuccessful. On Monday, December 17th Apple Valley Police Detectives V. Lopez and F. Arreola, located and arrested Butler at his father's residence in Barstow. Butler was booked at High Desert Detention Center and bail is set at $250,000. He is expected to be arraigned on Wednesday, December 19th in Victorville Superior Court.
Investigators from the Apple Valley Police Station are requesting the public's help to locate and identify any additional victims. Anyone with information is encouraged to call the Apple Valley Police Station at (760)240-7400 or remain anonymous and contact WeTip at 800-78CRIME or www.wetip.com.
Refer: Deputy Brandon Clancy or Sergeant David Alexander
Station: Apple Valley Police Station
Phone No. (760) 240-7400
Case No. 181806096
JOHN McMAHON, Sheriff-Coroner
San Bernardino County Sheriff-Coroner Department