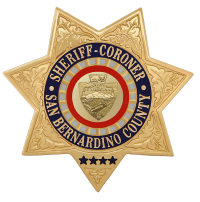 San Bernardino County Sheriff's Department
Press Release
DATE/TIME: Thursday, April 5, 2018 10:53 a.m.
INCIDENT: Assault with a Deadly Weapon on a Peace Officer/Officer Involved Shooting
LOCATION: Walmart parking lot – 301 Montara Rd., City of Barstow
VICTIM: Barstow Police Officers
SUSPECT: Diante Yarber, 26 years old, resident of Barstow
INVOLVED PARTIES: Unidentified female adult (injured)
Unidentified male adult (injured)
Unidentified male adult (uninjured)
Summary
On Thursday, April 5, 2018 at 10:53 a.m. Barstow Police Officers responded to a call of a suspicious vehicle, a black Mustang, in the parking lot of the Walmart store. Officers arrived and located the vehicle in the parking lot. Officers believed the driver was a subject wanted for questioning in a recent crime involving a stolen vehicle. Officers attempted a traffic stop of the Mustang when the driver suddenly reversed the vehicle and struck one of the patrol cars. When the driver again accelerated toward the officers and struck a second patrol car, the officer involved shooting occurred. Two of the four occupants were struck by gunfire.
The driver was pronounced deceased at the scene. A female passenger suffered gunshot wounds and was airlifted to Arrowhead Regional Medical Center. The two male passengers exited the vehicle during the incident and one of them sustained minor injuries to his lower extremities in the process. Both injured passengers are expected to recover from their injuries.
Sheriff's Specialized Investigations Division was requested to conduct the officer involved shooting investigation.
No additional information is available for release. Updates will be provided as new information becomes available.
Anyone with information regarding this investigation, or any witnesses are urged to contact Sheriff's Homicide Detail, Detective Bruce Southworth at (909)387-3589. Callers wishing to remain anonymous are urged to call the We-tip Hotline at 1-800-78-CRIME (27463) or you may leave information on the We-Tip Hotline at www.wetip.com.
Refer: Detective Bruce Southworth or Sergeant Robert Warrick
Station: Specialized Investigations Division – Homicide Detail
Phone No. (909)387-3589
Case No. DR#60180060 H#2018-022
John McMahon, Sheriff-Coroner
San Bernardino County Sheriff-Coroner Department
Sheriff's Public Affairs Division
655 E. Third Street
San Bernardino, California 92415-0061
Telephone: (909) 387-3700