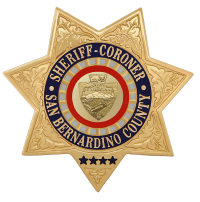 San Bernardino County Sheriff's Department
Press Release
DATE/TIME: April 7, 2018 10:43 am
INCIDENT: Murder Investigation
LOCATION: 25000 block of West Main Street, county area of Barstow
VICTIM: Trayana Denice Taylor, a 27-year-old female of Barstow
SUSPECT: Andre Dewprey Woodard, a 37-year-old male of Barstow
Summary
On Saturday, April 7, 2018, at approximately 10:43 am, deputies from the Barstow Sheriff's Station responded to an apartment in the 25000 block of West Main Street, in the county area of Barstow, following the report of a found dead body. Deputies and emergency medical personnel located the victim (Trayana Taylor) deceased, inside of an apartment. Taylor suffered multiple injuries and was pronounced deceased inside the apartment.
Detectives from the Specialized Investigations Division, Homicide Detail, responded to the location and conducted the investigation. During the early stages of the investigation, detectives contacted Taylor's boyfriend, Andre Woodard who was found to be in possession of a loaded handgun. Woodard was arrested and booked into the Central Detention Center for being a felon in possession of a loaded firearm.
As the investigation continued, detectives determined Taylor had been fatally shot, and Woodard was the suspect in the murder. On Tuesday, April 10, 2018, detectives booked Woodard for PC 187(a) Murder, and the San Bernardino County District Attorney's Office has since filed the Murder charge.
The investigation is on-going, and anyone with information regarding this incident is urged to contact Detective Max Kunzman or Sergeant Robert Warrick at (909)387-3589. Callers wishing to remain anonymous are urged to call the We-Tip Hotline at 1-800-78-CRIME (27463), or you may leave information on the We-Tip website at www.wetip.com.
Refer: Detective Max Kunzman or Sergeant Robert Warrick
Station: Specialized Investigations Division – Homicide Detail
Phone No. (909) 387-3589
Case No. DR #081800527 H #2018-023
John McMahon, Sheriff-Coroner
San Bernardino County Sheriff-Coroner Department
Sheriff's Public Affairs Division
655 E. Third Street
San Bernardino, California 92415-0061
Telephone: (909) 387-3700