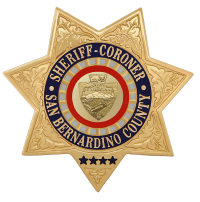 San Bernardino County Sheriff's Department
Press Release
DATE/TIME: March 30, 2018
INCIDENT: Possession of Narcotics for Sales
LOCATION: 35200 Block of Cedar Road, Lenwood
SUSPECT: Hartland, Robert; 38- year-old resident of Barstow
Deluca, Brandon; 25-year-old resident of Barstow
Navarro, Anthony; 47-year-old resident of Barstow
Silva, Daniel; 29-year-old resident of Barstow
Chacon, David; 40-year-old resident of Barstow
Summary
On March 30, 2018, Deputy J. Zeman and deputies from the Barstow Sheriff's Station served a search warrant in the 35200 block of Cedar Street.
During the search, deputies contacted five men at the home and found suspected methamphetamine and several items commonly associated with narcotics sales, including digital scales and packing material. Three loaded handguns were also found, one of which was reported stolen. The owners of the other two guns have not yet been identified.
Robert Hartland is currently on probation and was arrested for HS 11378, possession of drugs for sales; HS 11370.1, possession of a controlled substance while armed; PC 29800(A)(1), felon in a possession of a firearm; PC 30305(A)(1), felon in possession of ammunition; and PC 496(A), possession of stolen property. Daniel Silva was arrested for PC 148, resisting arrest. Brandon Deluca was arrested for HS 11377(A), possession of methamphetamine and HS 11364(A), possession of drug paraphernalia. David Chacon was also arrested for HS 11364(A).
Anyone with information regarding this incident is urged to contact the Barstow Sheriff's Station at (760) 256-4838. Citizens wishing to remain anonymous are urged to call the We-Tip Hotline at 1-800-78-CRIME (27463), or you may leave information on the We-Tip website at www.wetip.com.
Refer: Deputy J Zeman
Station: Barstow Sheriff's Station
Phone: (760) 256-4838
Case: 081800486
John McMahon, Sheriff-Coroner
San Bernardino County Sheriff-Coroner Department
Sheriff's Public Affairs Division
655 E. Third Street
San Bernardino, California 92415-0061
Telephone: (909) 387-3700