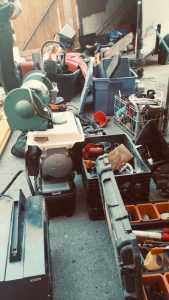 DATE/TIME:  November 19, 2018             1:10 p.m.
INCIDENT:    Seeking Public Assistance to Identify Owners of Stolen Property Found During Traffic Stop               
LOCATION: Big Bear Blvd./Summit Blvd., Big Bear Lake
SUSPECT:    Dennis Lynn Lee, 43-years-old, resident of Pasadena
Jaime Ordonez, 53-years-old, resident of Diamond Bar
Ann Esparza, 37-years-old, resident of Pasadena
SUMMARY:
On November 19th at approximately 1:10 p.m., deputies from the Big Bear Sheriff's Station conducted a traffic stop on a pickup truck hauling a trailer near the intersection of Big Bear Blvd. and Summit Blvd. The truck had no license plate and the trailer displayed an obstructed plate. The truck was occupied by the driver, identified as Dennis Lee, and two passengers, identified as Ann Esparza and Jaime Ordonez.  A record check confirmed Ordonez to be on Post Release Community Supervision with a no bail warrant out of Los Angeles County.  Lee and Esparza are both convicted felons.
During a search of the vehicle and trailer deputies located multiple firearms, along with tools and equipment that were believed to be stolen.  A cutoff concrete saw, Prototek transmitter and other specialized equipment was included in the tools.  Through investigation, deputies discovered these items were stolen from Lake Arrowhead Community Services District.
All three suspects were booked into the Big Bear jail on felony charges of being in possession of stolen property and convicted felons in possession of firearms.  Arraignment hearings in this matter are scheduled for November 21st in San Bernardino County Superior Court.
Deputies are in the process of identifying owners of the additional tools and equipment that were recovered; including chain saws, reciprocating saws, a welder, generator, air compressor and more.  The Big Bear Sheriff's Station is seeking the public's assistance to identify owners of the remaining stolen items.  If you have been a recent victim of a reported burglary and believe any of these items belong to you, please contact Deputy Brian Francis at the Big Bear Sheriff's Station – (909) 866-0100.  If you have been a victim of a previously undiscovered or unreported burglary, please contact our non-emergency dispatch line at (909) 866-7581.
Refer:             Tiffany Swantek, Media Relations / Dep. B. Francis
Station:          Big Bear Sheriff's Station
Phone No.     (909) 866-0100
Case No.       1618001153
John McMahon, Sheriff-Coroner
San Bernardino County Sheriff-Coroner Department