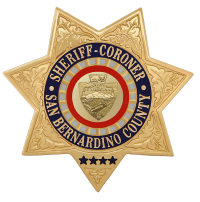 San Bernardino County Sheriff's Department
Press Release
DATE/TIME: 01/17/18, 9:20 p.m.
INCIDENT: Suspect Arrested for Home Invasion Robbery
LOCATION: 700 Block of Edgemoor Rd., Big Bear Lake
SUSPECT: Jamey Passmore, age 25 a resident of Big Bear Lake
VICTIM: Male Adult, Female Adult
Summary
On January 17th, at approximately 9:20 p.m., deputies of the Big Bear Sheriff's Station responded to a call of a home invasion robbery in the 700 block of Edgemoor Road in Big Bear Lake. The victims reported a male adult, later identified as Jamey Passmore, was armed with a hammer and used force to enter their residence. Passmore told the victims not to call the police, demanded their cell phones, and fled the scene. With the assistance of Sheriff's Aviation, an extensive search for the suspect was conducted. Passmore eventually returned to the scene where deputies detained him without incident.
Jamey Passmore was booked into the Big Bear Jail on felony charges of home invasion robbery. Records check confirmed that Passmore is currently on Post Release Community Supervision (PRCS) for prior criminal convictions. As part of Governor Jerry Brown's 2011 Realignment Plan (AB109), in order to comply with a U.S. Supreme Court decision requiring the State of California to lower its prison population by 30,000 inmates, offenders with non-violent, non-sexual and non-serious convictions serve reduced sentences in county jails and are then placed on local supervision through the County's Probation Department after being released.
Suspect Jamey Passmore remains in custody without bail, pending an arraignment hearing scheduled for January 19th in San Bernardino County Superior Court.
Refer: Tiffany Swantek, PIO
Station: Big Bear Sheriff's Station
Phone No. (909) 866-0100
Case No. 161800072
John McMahon, Sheriff-Coroner
San Bernardino County Sheriff-Coroner Department
Sheriff's Public Affairs Division
655 E. Third Street
San Bernardino, California 92415-0061
Telephone: (909) 387-3700