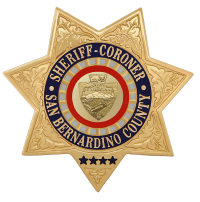 San Bernardino County Sheriff's Department
Press Release
DATE/TIME: 04/22/18 at 8:43 a.m.
INCIDENT: Suspects Arrested for Identity Theft
LOCATION: 100 Block of Lagunita Lane, Big Bear Lake
SUSPECT: Dennis Carbajal, 39-year-old HMA, Resident of Beaumont
Brian Dimmick, 38-year-old WMA, Resident of Victorville
VICTIM:Multiple Individuals in Fontana, Beaumont, and Big Bear Valley
Summary
On April 22, 2018, deputies from the Big Bear Sheriff's Station conducted a probation check on Dennis Carbajal at a hotel room in the 100 block of Lagunita Lane in Big Bear Lake. Carbajal is currently on Post Release Community Supervision (PRCS) as a result of California Assembly Bill 109. Carbajal attempted to run from the back of the residence but was immediately caught.Two additional subjects identified as Brian Dimmick and Jonnie Stivers were also found to be in the room with Carbajal.
When deputies searched the room, they found several California Driver's Licenses, Social Security cards, bank statements, altered checks, and credit applications indicative of identity theft.When deputies searched Carbajal's vehicle they found drug paraphernalia, stolen mail from several residents within the Big Bear Valley, and electronic equipment that is commonly used in the commission of identity theft crimes.
Dennis Carbajal and Brian Dimmick were booked on felony charges of possession of stolen property, conspiracy to commit a crime, and making fictitious checks. Carbajal was booked on an additional felony charge of fraud.Court procedures in this matter are pending in San Bernardino County Superior Court.
As part of Governor Jerry Brown's 2011 Realignment Plan (AB109), in order to comply with a U.S. Supreme Court decision requiring the State of California to lower its prison population by 30,000 inmates, offenders with non-violent, non-sexual and non-serious convictions serve reduced sentences in county jails and are then placed on local supervision through the County's Probation Department after being released.
Victims from the areas of Fontana, Beaumont, and Big Bear have been identified, and additional unreported victims may exist.Anyone having additional information on this matter is requested to contact Deputy Gorajewski at the Big Bear Sheriff's Station at (909) 866-0100.Information can also be reported anonymously by calling WETIP at (800) 78-CRIME or online at www.wetip.com.
Refer:Tiffany Swantek, PIO
Station:Big Bear Sheriff's Station
Phone No.(909) 866-0100
Case No.161800432
John McMahon, Sheriff-Coroner
San Bernardino County Sheriff-Coroner Department
Sheriff's Public Affairs Division
655 E. Third Street
San Bernardino, California 92415-0061
Telephone: (909) 387-3700