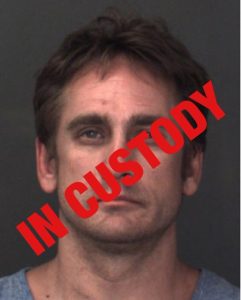 DATE/TIME: **Updated 10/10/18
INCIDENT: At Large Assault and Kidnapping Suspect Terrance Nank Located and Arrested
LOCATION: Forest Service Road 2N93, Sugarloaf
SUSPECT: Terrance Jerome Nank (a/k/a "TJ"), 45-years-old, resident of Sugarloaf
VICTIM: Confidential Female Adult
SUMMARY:
**UPDATE: Terrance Nank was taken into custody without incident on October 10, 2018 at approximately 11:00 a.m. He was located at a residence in the 2100 block of E. 5th Lane in Erwin Lake. Following an extensive interview, Nank was arrested and booked on felony charges of kidnapping, criminal threats, domestic battery and robbery.
The Detective Bureau of the Big Bear Sheriff's Station received numerous reports of information from the public leading to Nank being detained and arrested. The Big Bear Sheriff's Station appreciates the diligence of the public's assistance in locating Nank and looking out for the safety of the citizens of the Big Bear Valley community.
Terrance Nank remains in custody in lieu of $500,000 bail. An arraignment hearing in this matter is scheduled for October 12, 2018 in San Bernardino County Superior Court.
~~~~~~~~~~~~~~
On October 2, 2018, deputies from the Big Bear Sheriff's Station responded to a call of an assault that occurred on or near Forest Service Road 2N93 near Sugarloaf. The adult female victim reported that while she was in a vehicle with Terrance Nank (also known as "TJ"), a verbal argument ensued. Nank reportedly grabbed the victim by the head and held her down while she struggled to get away from him. Nank continued to assault the victim, repeatedly hitting, kicking, and choking her. During the physical altercation, Nank brandished a Bowie hunting knife in an aggressive and threatening manner toward the victim. The victim reported that she was held by Nank against her will and assaulted for a period of 20 to 30 minutes. The victim was finally able to flee from Nank after he kicked her out of the vehicle and deserted her in a forested area.
The investigation into this matter is ongoing. Deputies and Detectives have made several attempts to contact Nank for questioning; however, he has not been located. Nank is believed to be absconding from law enforcement in the Big Bear area. The Big Bear Sheriff's Station is requesting the public's assistance in locating Nank.
Terrance Nank (a/k/a "TJ" Nank) is a 45-year-old White male adult, 5'8" tall, 185 lbs., with blond hair and blue eyes. Nank is known to be armed and dangerous. The public is advised not to make direct contact with Nank. Anyone having information on the current whereabouts of suspect Terrance Nank is requested to immediately contact Detective Andrew Montbriand or the Big Bear Sheriff's Station at (909) 866-0100.
Refer: Tiffany Swantek, Media Relations
Station: Big Bear Sheriff's Station
Phone No. (909) 866-0100
Case No. 061800812
John McMahon, Sheriff-Coroner
San Bernardino County Sheriff-Coroner Department