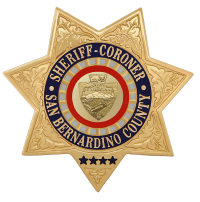 San Bernardino County Sheriff's Department
Press Release
Summary
On January 27, 2018, at approximately 10:40 am, deputies from the Central Station responded to the 5300 block of Golondrina Drive for a burglary in progress. Three black male adults arrived at the victim's residence, kicked in the front door and began to ransack the home as they looked for items to steal. The homeowner arrived shortly after, and all three subjects fled the location, leaving the vehicle they arrived in.
Deputies arrived and detained Dquan Akers as he ran from the area. During the investigation, deputies located two firearms and ammunition inside the vehicle. One of the firearms was reported stolen. Akers was booked into the Central Detention Center, and also was booked on a No Bail Probation Hold. The remaining two subjects are still outstanding.
This is an ongoing and active investigation. Anyone with information regarding this incident is urged to contact Central Station at (909)387-3545. Callers wishing to remain anonymous are urged to call We-Tip Hot line at 1-800-78-CRIME(27463) or you may leave information on the website at www.wetip.com.
Refer: Deputy Kevin Hogue
Detective David Rayenhartz
Station: Central Station
Case #: 011800300
Phone No. (909) 387-3545
John McMahon, Sheriff-Coroner
San Bernardino County Sheriff-Coroner Department
Sheriff's Public Affairs Division
655 E. Third Street
San Bernardino, California 92415-0061
Telephone: (909) 387-3700