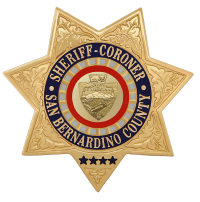 San Bernardino County Sheriff's Department
Press Release
DATE/TIME: January 27, 2018 / 11:05 pm
INCIDENT: CVC 2800.2, Felony Evading – PC 148, resisting arrest
LOCATION: San Bernardino
SUSPECT(S): Keegan Quinney, 25 year old resident of San Bernardino, Mustafa Walker, 28 year old resident of San Bernardino
Summary
Sergeant Joe Silva and Deputy Luis Sandoval attempted to conduct a traffic stop on Keegan Quinney for a vehicle code violation in San Bernardino. Quinney accelerated and deputies initiated a vehicle pursuit. During the pursuit, Quinney failed to yield for several red lights and drove at high rates of speed, placing near-by motorists in great danger.
After a short distance, the pursuit terminated after Quinney abandoned his vehicle in the middle of a public road adjacent to the San Bernardino City Hall. He was taken into custody by Deputy Sandoval. Quinney's passenger, Mustafa Walker, also fled and could not be located. Sheriff's Aviation and San Bernardino Police Officers assisted and found Walker in a nearby parking lot hiding under a delivery truck. Walker fled, but was captured a short distance later.
During the investigation, Deputies discovered that both suspects were on felony probation and Quinney had two active felony warrants for his arrest. Quinney and Walker were booked into the Central Detention Center and were charged with CVC 2800.2, felony evading and PC 148, resisting arrest.
Refer: Deputy Luis Sandoval
Station: Central Station
Phone No. 909-884-0156
Case No. 011800299
John McMahon, Sheriff-Coroner
San Bernardino County Sheriff-Coroner Department
Sheriff's Public Affairs Division
655 E. Third Street
San Bernardino, California 92415-0061
Telephone: (909) 387-3700