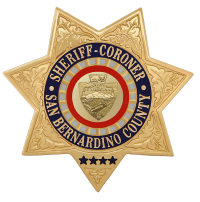 San Bernardino County Sheriff's Department
Press Release
DATE/TIME: April 6, 2018
INCIDENT: HS 11366 – Operate Narcotics Residence
PC 475 – Possess Forged Checks
PC 530.5 – Identity Theft
PC 29800 – Felon Possess Weapon
HS 11370.1 – Possess Narcotics While Armed
LOCATION: 66200 block Avenida Dorado; City of Desert Hot Springs
SUSPECTS: Misty Laur, Age: 19 DHS, CA
Katelyn Farris, Age: 20 Yucaipa, CA
Bryan Holdenbarth, Age: 25 DHS, CA
Dakota Fowler, Age: 22 DHS, CA
Glenn Stoecker, Age: 21 Yucaipa, CA
Michael Romero, Age: 23 Yucaipa, CA
Summary
From August thru December of 2017, Yucaipa MET Team Deputies, Station Detectives, and San Bernardino County Probation served multiple search warrants at a residence in the 13400 block of 5th St. The home owner, Misty Laur, was arrested for HS 11366 three separate times. During each contact at the residence, several other suspects were also arrested for various narcotics & weapons violations.
Yucaipa Detectives continued to follow-up on those cases and learned that several of the suspects had warrants for their arrest as part of the on-going investigations being conducted by Yucaipa Police.
Investigation revealed that Misty Laur sold the residence on 5th Street and purchased a residence in the 66200 block of Avenida Dorado in the City of Desert Hot Springs. During the investigation, it was learned that Laur was again allowing several of the wanted suspects to stay at her new residence.
On Thursday, April 5, 2018, at about 6:00 am, detectives from the Yucaipa Sheriff's Station, the Sheriff's Gang Enforcment Detail, and detectives from Desert Hot Springs Police served a search warrant at Misty Laur's new residence. All of the above suspects were contacted inside the home. Several suspects had active warrants for their arrest, including Bryan Holdenbarth who was on active Post Release Community Supervision (PRCS). Holdenbarth had been absconding from his probation officer for several months.
During the search of the home, it was found the above subjects were once again using this residence as a place to use and distribute narcotics from. Detectives located numerous items of stolen property taken during vehicle burglaries in the cities of Yucaipa and Desert Hot Springs. Deputies also located methamphetamine, marijuana, heroin and a loaded, semi-automatic handgun.
Bryan Holdenbarth and Michael Romero were found to be out on Post Release Community Supervision (PRCS) as part of Governor Jerry Brown's Realignment Plan, or AB109, to comply with a U.S. Supreme Court decision requiring the state to lower its prison population by 30,000. Offenders with non violent, non-sexual, and non-serious convictions serve reduced sentences in county jail and be placed on local supervision through county probation.
With the exception of Michael Romero, all of the above suspects were arrested for various felony charges and booked into the Larry D. Smith Correctional Facility in Riverside County. Romero was transported and booked into West Valley Detention Center, where he was charged with violating the terms of his PRCS Supervision.
The Multiple Enforcement Team / Problem Oriented Policing Detail and Detective Division is funded by and serves the City of Yucaipa. Among other duties, officers assigned to this detail seek wanted persons, work with parole and probation officers to ensure that people under their supervision remain in compliance with the law, and respond to concerns expressed by citizens regarding all types of criminal activity that is affecting their neighborhoods and communities. Citizens with any such information are encouraged to contact the Yucaipa Police Department MET Team at (909) 918-2305. Citizens may also anonymously provide information to We Tip by calling 1-800-78 CRIME (1-800-782-7463) or by visiting WETIP.COM on the internet.
Refer: Detective Donald Patton
Station: Yucaipa Station
Phone No: (909) 918-2305
Case No: 141801077
John McMahon, Sheriff-Coroner
San Bernardino County Sheriff-Coroner Department
Sheriff's Public Affairs Division
655 E. Third Street
San Bernardino, California 92415-0061
Telephone: (909) 387-3700