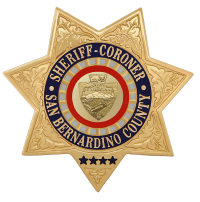 San Bernardino County Sheriff's Department
Press Release
DATE/TIME: Wednesday, February 7, 2018 / 3:00 p.m.
INCIDENT: Hoist Rescue
LOCATION: Big Falls, Forest Falls
VICTIM: Christina Farrell, 29 years old, resident of Yucaipa
Summary
On February 7, 2018, Farrell was hiking the area known as Big Falls in Forest Falls. Big Falls is a series of connected water falls, some of which are 30 feet in height. While climbing down, Farrell slipped and fell approximately 30 feet to the rocks below. Farrell suffered major injuries during the fall and witnesses called 911.
Medical personnel requested San Bernardino County Air Rescue 06 to assist. The crew, which consisted of personnel from the San Bernardino County Sheriff's Department and the San Bernardino County Fire Department responded and located Farrell at the base of the falls. They determined a hoist rescue would be required based on Farrell's location.
The crew set up and performed a hoist rescue of Farrell. After she was secure in the helicopter, Farrell was flown to a local area hospital with non-life threatening injuries.
Refer: Michael Gilley, Sergeant
Station: Aviation Unit
Phone No. (909) 252-4100
John McMahon, Sheriff-Coroner
San Bernardino County Sheriff-Coroner Department
Sheriff's Public Affairs Division
655 E. Third Street
San Bernardino, California 92415-0061
Telephone: (909) 387-3700