DATE/TIME:   January 14, 2019/  1251 A.M.
INCIDENT:      Possession of Narcotics
LOCATION:    Vista Grande Way / Grand Terrace Road
SUSPECT:      Daniel Hernandez, age 22 a resident of Colton
SUMMARY:
On Monday, January 14, 2019, Deputy Gile from the Central Station conducted a vehicle check in the area of Vista Grande Way and Grand Terrace Road in the City of Grand Terrace.  When Deputy Gile contacted the driver, Daniel Hernandez and a female passenger, he observed an open bottle of alcohol and detained both subjects. A search of the vehicle was conducted and a backpack containing a loaded 9mm pistol, 50 grams of cocaine, psilocybin mushrooms, marijuana and prescription cough syrup (Promethazine with codeine) was located.  Daniel Hernandez was arrested and transported to Central Detention Center where he was booked for sales and transportation of narcotics and possession of a gun.
Anyone with information regarding this incident is urged to contact Deputy J. Gile of the Central Station (909) 387-3545. Callers wishing to remain anonymous are urged to call the We-Tip Hotline at 1-800-78-CRIME (27463), or you may leave information on the We-Tip Hotline at www.wetip.com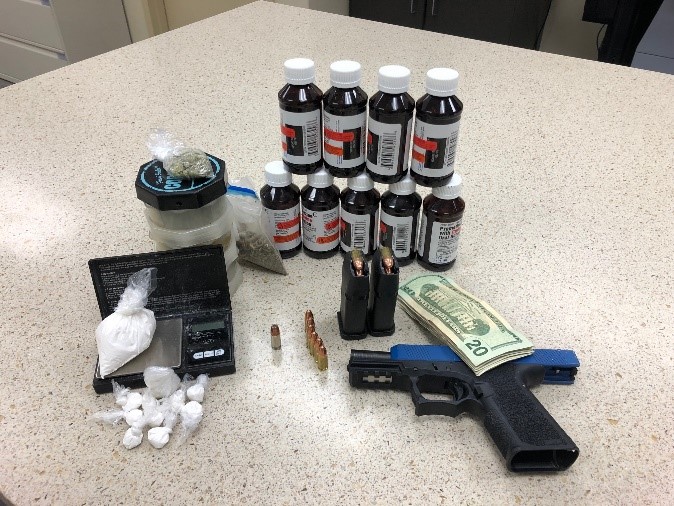 Refer:              Deputy J. Gile
Station:            Central Sheriff's Station
Phone No.       (909) 387-3545
Case No.         121900036
JOHN McMAHON, Sheriff-Coroner
San Bernardino County Sheriff-Coroner Department