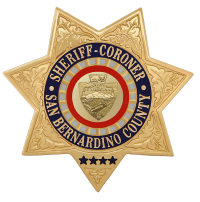 San Bernardino County Sheriff's Department
Press Release
DATE/TIME: April 16-18, 2018
INCIDENT: Advanced Human Trafficking Training
LOCATION: San Bernardino County
Summary
The San Bernardino County Human Trafficking Task Force recently hosted a 3-day, Advanced Human Trafficking Training course, designed to give investigators and street-level officers the knowledge and tools to actively recognize, investigate and successfully prosecute suspects in cases of Human Trafficking. The "victim-centered" training was provided by industry experts from ERASE Child Trafficking, a non-profit organization. ERASE Child Trafficking, is a US-based organization with global impact. They are focused on eliminating child trafficking by implementing a holistic approach, from education and recovery to life reclamation.
The course was attended by approximately 40 law enforcement officers from various agencies throughout San Bernardino County, to include the San Bernardino County Sheriff's Department, San Bernardino County District Attorney's Office, San Bernardino Police Department, Ontario Police Department, Fontana Police Department, Redlands Police Department, Department of Homeland Security, California State Parole and the California Army National Guard.
Human trafficking, believed to be the third-largest criminal activity in the world, is a form of human slavery which must be addressed at the interagency level. Human trafficking includes forced labor, domestic servitude, and commercial sex trafficking. It involves both U.S. citizens and foreigners alike and has no demographic restrictions. It is a multi-billion dollar criminal industry that denies freedom to approximately 20.9 million people around the world. According to the International Labour Organization (ILO), forced labor alone (one component of human trafficking) generates an estimated $150 billion in profits per year. In the United States, more than 20,000 cases of Human Trafficking are reported annually.
Community involvement plays an integral part in the fight against Human Trafficking, and law enforcement appreciates and encourages the assistance and information provided by the public. Anyone wishing to report activities or concerns related to Human Trafficking to the San Bernardino County Human Trafficking Task Force can do so directly by calling (909) 387-8400 or by Email at humantrafficking@sbcsd.org. Anyone wishing to remain anonymous may contact We-Tip at 1-888-78-CRIME, or you may leave information on the WE-Tip Hotline at www.wetip.com.
Refer: Sgt. Michael O'Brien
Station: San Bernardino County Human Trafficking Task Force
Phone No. (909) 387-8400
Case No.
JOHN McMAHON, Sheriff-Coroner
San Bernardino County Sheriff-Coroner Department
John McMahon, Sheriff-Coroner
San Bernardino County Sheriff-Coroner Department
Sheriff's Public Affairs Division
655 E. Third Street
San Bernardino, California 92415-0061
Telephone: (909) 387-3700