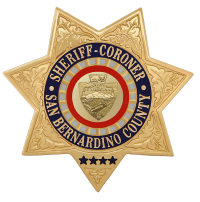 San Bernardino County Sheriff's Department
Press Release
DATE/TIME: January 22, 2018 3:54am
INCIDENT: VC 2800.2(A) Failure to yield with disregard to safety, PC 1203.2(a) Violation of probation
LOCATION: North Grass Valley Road, Lake Arrowhead, CA
SUSPECT(S): Thomas Heath 26 years old of Ontario, CA
VICTIM(S): State of California
Summary
On January 22, 2018, at approximately 3:54 am, Deputy Kelly Bush of the Twin Peaks Station conducted a traffic stop on a white, 2007, Nissan Frontier pickup truck for a lighting violation. The driver failed to yield to Deputy Bush's overhead red and blue emergency lights and accelerated at a high rate of speed. The driver of the vehicle (later identified as Thomas Heath), began driving erratically to avoid being pulled over by Deputy Bush. On two separate occasions during the pursuit, Heath drove through residential neighborhoods on the wrong side of the street and into oncoming traffic, nearly causing head-on collisions. His speed through residential neighborhoods reached approximately 65mph. Due to deputies being concerned about public safety, they reduced their speed causing them to lose sight of Heath and his truck.
On January 22, 2018, at approximately 11:15 pm, Deputy Bush and Deputy Blake Stebbing observed Heath's truck in the 1200 block of Aleutian drive, Lake Arrowhead. Both deputies attempted to make contact with Heath when he walked up to his truck. Upon seeing both deputies, Heath ran to avoid contact. Deputies identified themselves, and a foot pursuit ensued. Heath was apprehended a short distance away after he was found hiding in some foliage behind a residence. Heath was taken into custody without further incident. Heath was found to be in possession of heroin, stolen property from recent vehicle burglaries and tools used to commit burglaries. Deputies discovered Heath was also on felony probation out of Ontario, CA for assault with a deadly weapon.
Heath was arrested for failure to yield with disregard to safety, and violation of probation. He was transported and booked into the West Valley Detention Center. Additional charges of possession of stolen property and burglary tools to be filed with the San Bernardino County District Attorney's Office. Heath is suspected of being involved in several vehicle burglaries throughout the mountain communities. If you have further information regarding this case or additional burglaries connected to Heath, please contact Deputy Kelly Bush at the Twin Peaks Station at (909) 336-0600 or We-Tip 1-800-78-CRIME.
Refer: Gil Flores, Public Information Officer or Deputy Kelly Bush
Station: Twin Peaks
Case #: 051800119
Phone No. 909-336-0600
John McMahon, Sheriff-Coroner
San Bernardino County Sheriff-Coroner Department
Sheriff's Public Affairs Division
655 E. Third Street
San Bernardino, California 92415-0061
Telephone: (909) 387-3700