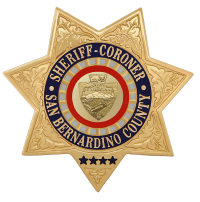 San Bernardino County Sheriff's Department
Press Release
DATE/TIME: Sunday, March 25th, 4:30 p.m.
INCIDENT: Hoist Rescue
LOCATION: Mount San Gorgonio, High Creek Trail
VICTIM(S): Anthony Casteneda, 34 years old from San Diego
Summary
On the Sunday, March 25th, Casteneda was hiking with friends in the High Creek area after descending from Mount San Gorgonio. While traversing a narrow trail covered in snow and ice, Casteneda lost his footing and fell approximately 100 feet before coming to rest against a tree. As a result of the fall, Casteneda sustained serious injuries and was unable to hike out of the area on his own. Casteneda's friends were able to hike a short distance to and obtain cell service and called 911 for help.
Once informed of the call, the Sheriff's patrol helicopter (40King3) and rescue helicopter (Air Rescue 306) responded to the area and began searching for Casteneda. The crew of 40King3 located Casteneda in a heavily forested area of High Creek at the approximate 9,500-foot level. Due to the remote landscape and steep ice-covered slope, the crew determined a hoist rescue would be required and requested Air Rescue 306. Air Rescue 306 already in the area quickly arrived at the location and lowered rescue personnel equipped with alpine rescue equipment down to Casteneda. Casteneda was placed into a rescue litter and hoisted up to the helicopter followed by rescue personnel. The crew treated Casteneda and transported to Arrowhead Regional Medical Center for serious injuries sustained during the fall.
This was the second hoist rescue of the day for the crews involving hikers traversing snow and ice. If planning to hike in icy conditions, please ensure you are equipped with the proper equipment (crampons, ice ax, appropriate clothing, etc.). Hikers without alpine experience should avoid hiking at the higher elevation where snow and ice may be found.
Refer:Corporal Jon Anderson
Station: Emergency Operations Division- Aviation Unit
Case #: DR# 041800153
Phone No. (909)252-4100
John McMahon, Sheriff-Coroner
San Bernardino County Sheriff-Coroner Department
Sheriff's Public Affairs Division
655 E. Third Street
San Bernardino, California 92415-0061
Telephone: (909) 387-3700