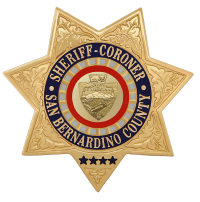 San Bernardino County Sheriff's Department
Press Release
DATE/TIME: February 19, 2018/3:16 pm
INCIDENT: PC 664/187 Attempted Murder
LOCATION: 3600 Block of June Street, Muscoy
SUSPECT(S): Crystal Montanez, age 24 a resident of Muscoy
VICTIM(S): Confidential
Summary
On Monday, February 19, 2018, at approximately 3:16 pm, deputies from the Central Station responded to a reported stabbing in the 3600 block of June Street in Muscoy. The victim called 911 to report that her daughter, Crystal Montanez, stabbed her in the face with a butcher knife. Prior to deputies arrival, the victim left the scene in an attempt to seek treatment at a local hospital. Responding deputies located the victim's vehicle a short distance from the residence and conducted a traffic stop. The deputy observed the victim was bleeding profusely and, immediately summoned medical attention and rendered first aid. The victim was transported by ambulance to a local trauma center for treatment of stab wounds to her back and face.
Deputies arrived at the incident location and made contact with the suspect., Crystal Montanez. Montanez was arrested, transported and booked into the West Valley Detention Center for attempted murder.
Anyone with information regarding this incident is urged to contact the Central Station at (909) 387-3545. Callers wishing to remain anonymous are urged to call the We-Tip Hotline at 1-800-78-CRIME(27463) or you may leave information on the website at www.wetip.com.
Refer: Deputy Laidlaw
Station: Central Station
Phone No. (909) 387-3545
Case No. 011800589
John McMahon, Sheriff-Coroner
San Bernardino County Sheriff-Coroner Department
Sheriff's Public Affairs Division
655 E. Third Street
San Bernardino, California 92415-0061
Telephone: (909) 387-3700