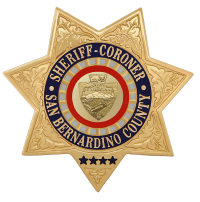 San Bernardino County Sheriff's Department
Press Release
DATE/TIME: January 25, 2018 3:01 p.m.UPDATE:February 8, 2018
INCIDENT: Death Investigation
LOCATION: 53000 block of Coyote Road, Rimrock
VICTIM(S): Donald Osborne, age 78 a resident of Rimrock
Abigail Osborne, age 74 a resident of Rimrock
Summary
The victims have been identified as Donald and Abigail Osborne.
The cause of death is still pending.
Anyone with information related to this investigation is asked to contact the San Bernardino County Sheriff's Department Morongo Basin Station at (760)366-4175. Anyone wishing to remain anonymous may contact We-Tip at 1-888-78-CRIME.
*****************
On Thursday, January 25, 2018, at approximately 3:01 p.m., deputies from the Morongo Basin Station responded to a welfare check in the 53000 block of Coyote Road, in the county area of Rimrock. Deputies found all the doors and windows secure and had to force entry with the assistance of the San Bernardino County Fire Department. Deputies located a 78-year-old male and a 74-year-old female, deceased, inside the residence. The deaths appeared to be due to natural causes, but the cause of death will be determined at autopsy. Identification is pending the next of kin notification.
Refer: Detective Popa or Deputy Roche
Station: Morongo Basin
Phone No. (760)366-4175
Case No. 091800128
John McMahon, Sheriff-Coroner
San Bernardino County Sheriff-Coroner Department
Sheriff's Public Affairs Division
655 E. Third Street
San Bernardino, California 92415-0061
Telephone: (909) 387-3700