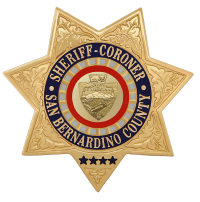 San Bernardino County Sheriff's Department
Press Release
DATE/TIME: January 25, 26 and 27, 2018
INCIDENT: Operation Reclaim and Rebuild
LOCATION: Cities of San Bernardino, Ontario, and Victorville
SUSPECT(S): Multiple
VICTIM(S): Confidential
Summary
In conjunction with Human Trafficking Awareness Month, the San Bernardino County Human Trafficking Task Force participated in the fourth annual 'Operation Reclaim and Rebuild' enforcement operation, conducted by the Los Angeles Regional Human Trafficking Task Force. More than 80 federal, state and local law enforcement agencies and task forces from across California as well as the Las Vegas Metropolitan Police Department, participated. The three-day, statewide effort aimed at combatting human trafficking, took place between Thursday, January 25, and Saturday, January 27, 2018, and was conducted in various mediums and met with positive results.
Over the three day period, the San Bernardino County Task Force conducted enforcement operations consisting of 2-3 operational phases per day. Operations were conducted throughout the county and specifically within the cities of San Bernardino, Ontario and Victorville. Specific areas were selected for enforcement by investigators, due to the high volume of activity and advertisements directly related to the commercial sex trafficking industry.
At the end of the operational period, San Bernardino County Task Force members had successfully arrested 42 suspects for various violations associated with prostitution and/or other crimes. Of those arrests, one suspect was arrested for felony Pimping/Pandering, and three additional suspects were arrested/charged with felonies involving gun possession, high capacity magazines, and ammunition. During the operation, investigators also identified and successfully rescued 11 adult victims of commercial sex trafficking.
The San Bernardino County Human Trafficking Task Force is made up of investigators from the San Bernardino County Sheriff's Department, San Bernardino County District Attorney's Office, San Bernardino Police Department, Ontario Police Department, San Bernardino Unified School District Police, Office of Homeland Security and the Federal Bureau of Investigation.
Anyone wishing to report activities or concerns related to Human Trafficking to the San Bernardino County Human Trafficking Task Force can do so directly by calling (909) 387-8400 or by Email at humantrafficking@sbcsd.org.
Refer: Sgt. M. O'Brien
Station: Gangs/Narcotics Division
Phone No. (909) 387-8400
Case No. N/A
John McMahon, Sheriff-Coroner
San Bernardino County Sheriff-Coroner Department
Sheriff's Public Affairs Division
655 E. Third Street
San Bernardino, California 92415-0061
Telephone: (909) 387-3700