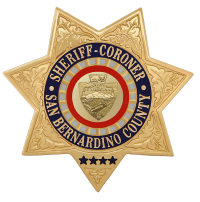 San Bernardino County Sheriff's Department
Press Release
DATE/TIME: April 1, 2018/10:00pm
INCIDENT: Human Trafficking, Pimping and Pandering of a Minor
LOCATION: 500 block of N. G St. San Bernardino
SUSPECT: Brandon Avery, 24 years old, resident of Colton
VICTIM: Confidential, 16 year old female
Summary
On April 1, 2018 (Easter Sunday), San Bernardino Police Department patrol officers located a 16 year old female working as a prostitute on the corner of Spruce St. and G Street in the City of San Bernardino. This area is known for a high volume of prostitution activity. The San Bernardino County Human Trafficking Task Force responded and assisted with the investigation.
Following an interview, the victim was being transported to placement by Child Protective Services when she exited and ran from the vehicle while it was stopped. Officers checked the area and she was located at a local motel in the 600 Block of W. 5th Street. The victim was located in a room with the male suspect, identified as Brandon Avery. Avery was in possession of over $1400 in cash, and during a search of the room, condoms and other items consistent with prostitution activity were located. Officers also located a noteable amount of illegal prescription medication. Further investigation found advertisements with the victim's photograph being used online. Investigators determined Avery to be managing the victim's advertisement and had rented the room for the victim to work as a prostitute. The victim was transported to a safe location and received services. Avery was arrested and booked at Central Detention Center for Felony Human Trafficking of a minor, pimping and pandering of a minor, and is being held in lieu of $150,000 bail. This investigation is ongoing.
Investigators believe there are other unidentified victims related to this case and are asking that anyone with information related to this investigation, please contact the San Bernardino County Human Trafficking Task Force at (909)387-8400. Anyone wishing to remain anonymous may contact We-Tip at 1-888-78-CRIME or you may leave information on the WE-Tip Hotline at www.wetip.com.
Photo available: https://local.nixle.com/alert/6492897/
Refer: Det. K. Hernandez
Station: San Bernardino County Human Trafficking Task Force
Phone No. (909) 387-8400
Case No. 621800120
John McMahon, Sheriff-Coroner
San Bernardino County Sheriff-Coroner Department
Sheriff's Public Affairs Division
655 E. Third Street
San Bernardino, California 92415-0061
Telephone: (909) 387-3700