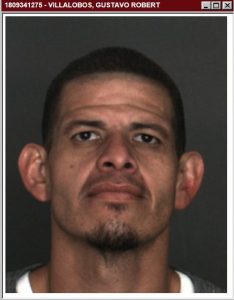 Date/Time Occurred: August 15, 2018, at approximately 4:40 a.m.
Crime or Incident: Commercial Burglary
Location: 5857 Pine Avenue, Chino Hills
Victim(s): Derenzis & Associates
Suspect #1: Villalobos, Gustavo Roberto 35-year-old resident of Chino Hills
Suspect #2: Unknown Hispanic male adult
Suspect Vehicle: Black 2016 Honda Accord
SUMMARY
On August 15, 2018, at approximately 7:49 a.m., deputies from the Chino Hills Station responded to the report of a commercial burglary. The suspects forced entry into the building by using a pry bar to remove a window. A laptop worth $1200.00 was stolen during the burglary and the crime was captured on video surveillance. Through investigation, Villalobos was identified as one of the suspects.
On September 6, 2018, Chino Hills Police detectives secured an arrest warrant for Villalobos and a search warrant for his residence.
On September 12, 2018, a search warrant was served at Villalobos' residence where he was arrested and found in possession of approximately $30,000 worth of stolen/recovered property. The stolen property was linked to burglaries in the cities of Brea, Chino, Upland and Pomona. Villalobos was booked for commercial burglary and possession of known stolen property, with a $100,000 bail and a no bail Parole hold. Villalobos is being held at West Valley Detention Center.
Anyone with information regarding this incident is urged to contact Detective Del Rio at the Chino Hills Police/Sheriff's Station at (909) 364-2000. Callers wishing to remain anonymous are urged to call the We-Tip Hotline at 1-800-78-CRIME (27463) or you may leave information on the We-Tip Hotline at www.wetip.com
Case number: 221802606
Contact: Detective Michelle Del Rio