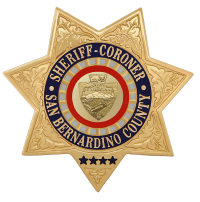 San Bernardino County Sheriff's Department
Press Release
Date/Time Occurred: Monday, February 26, 2018 / 12:38 a.m.
Crime or Incident: PC 422- Criminal Threats
Location: Ayala High School, City of Chino Hills
Suspect(s): Nicholas Ceballos, 19-year-old resident of Chino
Summary
On Monday, February 26, 2018, at approximately 2:59 p.m., Chino Hills deputies were dispatched to Ruben S. Ayala High School regarding a former student who made threats to "shoot up the school." Fortunately, Ayala High School was closed when authorities received notice of the alleged plot, affording investigators the opportunity to work swiftly to resolve the matter before it posed an active threat to students or staff. After further investigation, Nicholas Ceballos was identified as the former student who made the threats.
Chino Hills Detective Wendy Beaton and Deputy Eileen Smith, obtained a search and arrest warrant for Nicholas Ceballos and his residence. On Tuesday, February 27, 2018, at approximately 12:38 a.m., Nicholas Ceballos was located, taken into custody, and booked into the West Valley Detention Center for PC 422-Criminal Threats. Investigators have concluded that there are no additional threats related to this investigation.
Any additional information references this incident, contact the Chino Hills Police Station's Detective Bureau at (909) 364-2000. Callers wishing to remain anonymous may call We-Tip at 800 78-CRIME.
Chino Hills Police/Sheriff's Station
Deputy Smith or Detective Beaton
14077 Peyton Drive, Chino Hills
(909)364-2000 CASE # 2218000691
John McMahon, Sheriff-Coroner
San Bernardino County Sheriff-Coroner Department
Sheriff's Public Affairs Division
655 E. Third Street
San Bernardino, California 92415-0061
Telephone: (909) 387-3700