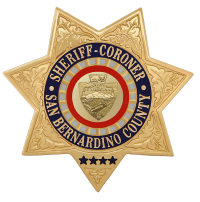 San Bernardino County Sheriff's Department
Press Release
DATE/TIME: Wednesday, March 14, 2018 / 5:00p.m.
INCIDENT: Search Warrant – Indoor Marijuana Grow / Utility Theft
LOCATION: 4900 Block of Copper Road, Chino Hills
SUSPECT(S): *Suspect ID pending
Summary
The Sheriff's Marijuana Enforcement Team (MET) and deputies assigned to the Chino Hills Police Department served a search warrant at a residence in Chino Hills for the illegal cultivation of marijuana.
Deputies from the Chino Hills Police Department received a tip from a concerned citizen regarding suspicious activity at the residence. Investigators began their investigation and found evidence of an illegal indoor marijuana grow occurring. Investigators served a search warrant and found over 1,200 marijuana plants growing and over 25 pounds of processed marijuana. Evidence of utility theft was also found. The main power lines provided by Southern California Edison (SCE) were tampered with allowing for the theft of electricity. Personnel from SCE responded to the scene to assist with the investigation and to disconnect the electrical service at the location for public safety. Often, the suspects involved in the illicit growing of marijuana will bypass the utility company's meter to steal electricity service and to prevent detection by law enforcement or the utility. This dangerous process is illegal and will usually result in a fire at the incident location because of the unpermitted methods used.
Several investigations have revealed that rental properties are being used by tenants to illegally grow marijuana. The tenants and the owners of the rental property should check with their local city code enforcement division or law enforcement agency to verify that marijuana cultivation is allowed. Generally, large scale marijuana growing operations are not allowed in residential areas. The City of Chino Hills prohibits this type of activity. A link to the Chino Hills Municipal Code regarding marijuana activity is below.
Once the suspect(s) are identified, the investigation/reports will be sent to the San Bernardino County District Attorney's Office for review of criminal charges against the suspect(s). They will face charges of Utility Theft, Maintaining a Drug House and Cultivation of Marijuana.
Click here for Chino Hills Marijuana Ordinance: https://library.municode.com/ca/chino_hills/codes/code_of_ordinances?nodeId=TIT5BULIRE_CH5.28MA_5.28.020COMAACRO
Anyone with information regarding this investigation is urged to contact the Sheriff's Gangs / Narcotics Division at 909-387-8400 or NARC-MET@sbcsd.org. Callers wishing to remain anonymous are urged to call the We-tip Hotline at 1-800-78-CRIME (27463) or you may leave information on the We-Tip Hotline at www.wetip.com.
Refer: Sheriff's Public Affairs
Phone No. (909) 387-3700
DR: #651800127
John McMahon, Sheriff-Coroner
San Bernardino County Sheriff-Coroner Department
Sheriff's Public Affairs Division
655 E. Third Street
San Bernardino, California 92415-0061
Telephone: (909) 387-3700