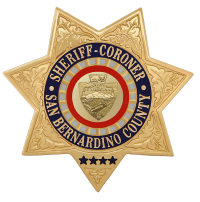 San Bernardino County Sheriff's Department
Press Release
DATE/TIME: Wednesday, January 3, 2018 / 4:00PM
INCIDENT: Search Warrant – Indoor Marijuana Grow / Utility Theft
LOCATION: 16360 Starstone Road, Chino Hills
SUSPECT:Li Liu, age 37, transient
Summary
On January 4, 2018 at 9:51 a.m., Sheriff's dispatch center received a report of human skeletal remains found alongside the Mojave River in the unincorporated area of Adelanto, northeast of the Southern California Logistics Airport. The remains were discovered by utility workers in the area.
Deputies from the Victor Valley Station responded and located the remains and deteriorated clothing within a relatively remote and small area of the riverbed. Located within the scene was a California driver's license belonging to David Steen, a 57 year old white male. Steen was reported missing from his residence in Apple Valley on September 17, 2017. A vehicle was found submerged in the river, but it was determined not to be Steen's. A separate investigation as to the vehicle and how it came to be in the river is ongoing.
Detective Jacob Naylor, lead investigator in Steen's missing person case and investigators from the Sheriff's – Coroner Division responded and processed the scene. Based on evidence located and Steen's distinctive physical characteristics, the remains are preliminary identified as Steen's. Steen's next of kin was notified of the discovery and identification. Forensic analysis will be conducted as a secondary confirmation for identification. At this time, the circumstances related to Steen's death are unknown and forensic analysis of the remains will be conducted.
Steen's vehicle remains outstanding. The vehicle is a gray 2006 Honda Civic, four door, license plate 5SSA443. The vehicle's rear bumper is attached to the vehicle with gray duct tape. Anyone with information as to Steen's whereabouts after his disappearance, or the current location of Steen's vehicle is asked to call the Apple Valley Station (760)240-7400 or Sheriff's Dispatch (760)956-5001.
Refer: Detective Jacob Naylor
Station: Apple Valley Station
Phone No. (760)240-7400
Case No. 181705130
John McMahon, Sheriff-Coroner
San Bernardino County Sheriff-Coroner Department
Sheriff's Public Affairs Division
655 E. Third Street
San Bernardino, California 92415-0061
Telephone: (909) 387-3700