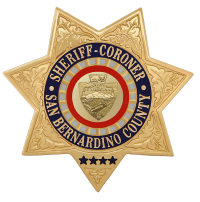 San Bernardino County Sheriff's Department
Press Release
DATE/TIME: April 12, 2018 6:25 p.m.
INCIDENT: Possession of Stolen Property/ Assault with a Deadly Weapon on a Peace Officer/ Felony Evading
LOCATION: Peyton Drive / Olympic View Drive, Chino Hills
SUSPECT: Jacob Toy, 28 years old, resident of Rancho Cucamonga
Summary
On Thursday, April 12, 2018, at 6:25 p.m., deputies from the Chino Hills Sheriff's Station attempted to stop a stolen Toyota Camry driving in the area of Peyton and Olympic View Drive. The vehicle was reported stolen from the city of Fontana earlier in the day. The driver, later identified as Jacob Toy of Rancho Cucamonga, failed to yield and led deputies on a 50-mile pursuit through several Southern California freeways. Officers with the California Highway Patrol joined deputies in an effort to apprehend the driver. During the pursuit, Jacob Toy drove erratically at high rates of speed in high traffic areas of the freeway, and at one point hit a CHP unit, then a Sheriff's patrol unit.
The pursuit was terminated in the Southbound lanes of the 405 Interstate at Rosecrans, in the city of Hawthorne. Officers from the California Highway Patrol disabled the suspect vehicle with a Pursuit Intervention Technique (PIT) maneuver. Jacob Toy was taken into custody and booked into the West Valley Detention Center for Possession of Stolen Property, Assault with a Deadly Weapon on a Peace Officer, and Felony Evading. At the time of the incident, Jacob Toy was out of custody on Post Release Community Supervision.
Anyone with information regarding this incident is urged to contact Sergeant Joe Vaughn of the Chino Hills Station (909) 364-2000. Callers wishing to remain anonymous are urged to call the We-Tip Hotline at 1-800-78-CRIME (27463), or online at www.wetip.com.
Refer: Sergeant Joe Vaughn
Station: Chino Hills
Phone No. (909) 364-2000
Case No. 221801241
John McMahon, Sheriff-Coroner
San Bernardino County Sheriff-Coroner Department
Sheriff's Public Affairs Division
655 E. Third Street
San Bernardino, California 92415-0061
Telephone: (909) 387-3700