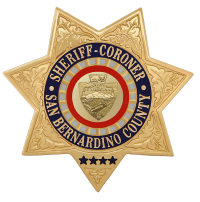 San Bernardino County Sheriff's Department
Press Release
DATE/TIME: April 5, 2018 at 8:30 pm
INCIDENT: PC 451 (c), Arson of Structure or Forest Land
LOCATION: Smokestack Drive near North K Street, City of Needles
SUSPECT: Shelly Alexander, 46 years old, Transient Resident of Needles
Summary
In the evening hours of Thursday, April 5, 2018, Sergeant Busto from the San Bernardino County Sheriff's Department was patrolling the area of North K Street at Smokestack Drive, near the bridge leading into Arizona. Sgt. Busto was on Smokestack Drive at North K Street when he observed flames coming from the vegitation along the riverbank on the west side of the bridge. Shelly Alexander was seen walking away from the fire toward the road. San Bernardino County Fire Personnel arrived and extiguished the fire. The estimated burn area on the riverbank was limited to about 400-500 square feet.
Detective Phillips with the San Bernardino County Sheriff's Arson/Bomb unit responded to the scene to assist Deputy D. Wagner with the arson investigation. It was determined that the fire that burned the vegitation in the area was intentionally started.
Shelly Alexander was arrested for Arson and booked into the Colorado River Station Jail with her bail set at $100,000.00.
Anyone with information related to this investigation is urged to contact the Colorado River Station at (760)326-9200.
Refer: Detective Phillips or Deputy D. Wagner
Station: Colorado River Station
Phone No. 760-326-9200
Case No. 211800350
John McMahon, Sheriff-Coroner
San Bernardino County Sheriff-Coroner Department
Sheriff's Public Affairs Division
655 E. Third Street
San Bernardino, California 92415-0061
Telephone: (909) 387-3700