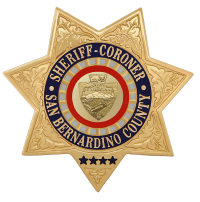 San Bernardino County Sheriff's Department
Press Release
DATE/TIME: April 8, 2018, at 10:21 p.m.
INCIDENT: Threat of School Violence
LOCATION: Needles High School
Summary
On Sunday, April 8, 2018, at 10:21 p.m., deputies responded to Needles High School regarding an e-mail threat of violence. Detectives immediately responded and began working closely with the Needles Unified School District. School district personnel have been very cooperative. Other investigative divisions of the sheriff's department are assisting with the investigation.
In San Bernardino County, there has been a rash of e-mail threats that have been determined to be a hoax.At this time, it appears there is no viable threat of violence at any school in the Needles Unified School District.
The San Bernardino County Sheriff's Department investigates every threat thoroughly and will never take these incidents lightly.
Per the Needles Unified School District, all schools will resume a normal schedule tomorrow, Tuesday, April 10, 2018.
Anyone with more information regarding this investigation is urged to contact the Colorado River Sheriff's Station – Detective Division at (760) 326-9200.Callers wishing to remain anonymous are urged to call the We-tip Hotline at 1-800-78-CRIME (27463), or you may leave information on the We-Tip Hotline at www.wetip.com.
Refer: Colorado River Sheriff's Station – Detective Division
Phone No. (760) 326-9200
John McMahon, Sheriff-Coroner
San Bernardino County Sheriff-Coroner Department
Sheriff's Public Affairs Division
655 E. Third Street
San Bernardino, California 92415-0061
Telephone: (909) 387-3700