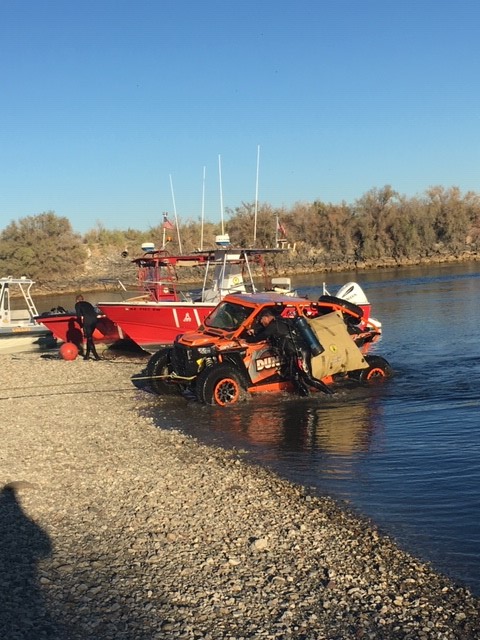 DATE/TIME: October 23, 2019/5:08 p.m.
INCIDENT: Off Highway Vehicle inWaterway
LOCATION: Coors Island/Colorado River
SUMMARY: On Wednesday, October 23, 2019, at 5:08 p.m., deputies from the Colorado River Station responded to Park Moabi near the City of Needles for a report of a off highway vehicle that was submerged in the Colorado River on Monday October 21, 2019.
During the course of the investigation, a 41 year-old male from Scottsdale, Arizona was driving his off highway vehicle on Coors Island north of Park Moabi on the Colorado River. The operator turned near the waters edge at the south point of the peninsula. The edge of the shoreline gave away underneath the tires and the OHV rolled into the water. The operator was able to safely exit the submerged OHV. The operator attempted to locate and remove the OHV and was unsucessful. The San Bernardino County Sheriff's Department's Marine Enforcement Unit was later able to respond and locate the OHV just south of Coors Island. The OHV vehicle was removed safely from the waterway.
Anyone with additional information is encouraged to contact Deputy Blackard of the Colorado River Station/Needles Police Department located at 1111 Bailey Ave or call (760) 326-9200. Those wishing to remain annonymous call the WeTip Hotline at (800) 78-CRIME (27463) or leave information online at www.wetip.com.
For press releases, news, and information follow the Colorado River Station Twitter at: @CORiverStation.
Refer: Deputy Eric Blackard
Station: Colorado River Station
Phone No. (760) 326-9200
Case No. 101900400
JOHN McMAHON, Sheriff-Coroner
San Bernardino County Sheriff-Coroner Department