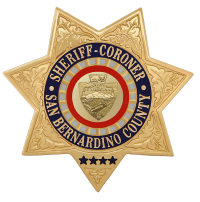 San Bernardino County Sheriff's Department
Press Release
DATE/TIME: April 4, 2018 / 8:00 AM
INCIDENT: PC 594 – Vandalism
PC 647f – Public Intoxication
LOCATION: 800 blk. Front Street, Needles, California
SUSPECT: Monique Debont, 49 years old, resident of Needles
Summary
On April 4, 2018 at about 8:00 a.m. deputies from the San Bernardino County Sheriff's Department Colorado River Station / Needles Police Department responded to the 800 block of Front St. regarding a woman affixing graffiti to a building.Witnesses in the area of the "El Garces" historical building near the Santa Fe Railroad Depot, saw 49-year-old Monique Debont using blue and green ink pens to write on the exterior walls of the building.
Deputy Deruiter contacted Debont and saw her damaging the building with the ink pens.Debont had blue and green ink on her hands and was standing in the area where the damage occurred. There were several words written on a historic building in the same color ink.
Further investigation revealed that Debont was responsible for an additional graffiti incident on Broadway near the California St. pedestrian underpass on March 30, 2018.Debont was taken into custody and booked into jail, where she is currently being held on a $5,000.00 bond.
Anyone with information about this crime is urged to contact Deputy Jeremy Deruiter at 760-326-9200. Those wishing to remain anonymous can call the We-tip Hotline at 1-800-78-CRIME (27463) or leave information at www.wetip.com.
Refer:Deputy Jeremy DeRuiter
Station:Colorado River Station / Needles Police Department
Phone No.760-326-9200
Case No.211800343
John McMahon, Sheriff-Coroner
San Bernardino County Sheriff-Coroner Department
Sheriff's Public Affairs Division
655 E. Third Street
San Bernardino, California 92415-0061
Telephone: (909) 387-3700