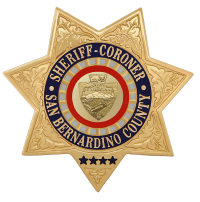 San Bernardino County Sheriff's Department
Press Release
DATE/TIME: 04/8/2018 / 01:19 a.m.
INCIDENT: PC 30305(a)- Felon in Possession of Ammunition
LOCATION: 26th and Rubidoux Avenue, Rubidoux
SUSPECT(S): Victor Salcido, 34-year-old resident of Bloomington
Summary
On 04/08/18, at 1:19 a.m.,Fontana Station deputies conducted a traffic stop on a vehicle leaving the county area of Bloomington at a high rate of speed.
During the traffic stop, deputies discovered Victor Salcido, was on felony probation and saw a Luger 9mm winchester round on thepassenger seat. Deputies searched the vehicle and found additional rounds. Salcido is a convicted felon and is prohibited from possessing ammunition.
Salcido was arrested for Felon in Possession of Ammunition and booked into West Valley Detention Center.
Refer:Deputy C. Bean
Station:Fontana Station
Phone No.(909) 356-6767
Case No.031800937
John McMahon, Sheriff-Coroner
San Bernardino County Sheriff-Coroner Department
Sheriff's Public Affairs Division
655 E. Third Street
San Bernardino, California 92415-0061
Telephone: (909) 387-3700