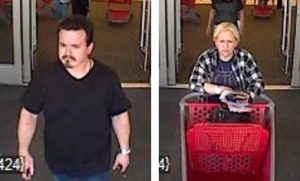 DATE/TIME: May 24, 2018 / 3:50 A.M.
INCIDENT: Penal Code 487 – Grand Theft
LOCATION: Glen Helen Pkwy/ I 15 Fwy, Rialto
SUSPECT(S): Hispanic or white male adult, in his 40's, with dark hair, a goatee and a mustache.
Hispanic or white female adult, in her 40's, with blonde hair.
VICTIM(S): Confidential
SUMMARY:
On Tuesday, May 8, 2018, between the hours of 6:00 pm and 6:20 pm, the two victims parked along the side of the road on Glen Helen Parkway near the I-15 freeway. The victims walked a short distance into the mountains to take photos and left their vehicles unlocked with their purses sitting on the passenger seats. When the victims returned to their vehicles they discovered their purses had been stolen.
Later that day, the victims later discovered their credit cards had been fraudulently used at the Target store located on Summit Avenue in Fontana. Video surveillance from Target showed two subjects, a male and female, using the victims' stolen credit cards at the self-check out lane to purchase $1,000 worth of gift cards.
To assist in deterring and preventing thefts, citizens are encouraged to always lock their vehicles. In addition, citizens are encouraged to secure their valuable items out of view if leaving them in their vehicle.
Anyone that might have witnessed the incident, or has any additional information, is urged to contact the San Bernardino County Sheriff's Department, Fontana Station, at 909-356-6767. Callers wishing to remain anonymous can call the We-Tip Hotline at 1-800-78-CRIME (27463) or may leave information on the We-Tip website at www.wetip.com.
Refer: Deputy R. Williams
Station: Fontana
Phone No. (909) 356-6767
Case No. 031801250
JOHN McMAHON, Sheriff-Coroner
San Bernardino County Sheriff-Coroner Department