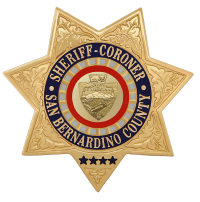 San Bernardino County Sheriff's Department
Press Release
INCIDENT: PC 664/187 Attempt Murder
LOCATION: Cedar Avenue/Santa Ana Avenue, Bloomington
SUSPECT(S): Max Ramirez, 47-year-old resident of Bloomington
VICTIM(S): Confidential
Summary
On 04/07/18, at 8:00 p.m., the victim, and his friend were leaving the Dollar General Store, on Cedar Avenue and Santa Ana Avenue in Bloomington. They saw Max Ramirez, harassing a man and woman who were trying to leave the store.
The victim told Ramirez to leave them alone. As the victim and his friend walked towards their vehicle, Ramirez came up to them and asked for change.When they said no, Ramirez became aggressive, claiming this was his neighborhood. The victim's friend told Ramirez to leave them alone, but Ramirez refused to leave. The victim exited his vehicle, and as the victim and Ramirez argued, Ramirez attacked him. Ramirez repeatedly stabbed and slashed the victim with a knife. The victim had wounds on his neck, chest, arms, and hands. The victim was treated and released at a local hospital.
Ramirez was booked at the West Valley Detention Center for PC 664/187 Attempt Murder.
If anyone witnessed the incident or has additional information, please contact the Fontana Sheriff's Station, 909-356-6767. Callers wishing to remain anonymous may contact the We-Tip Hotline at 1-800-78-CRIME (27463) or you may leave information on the We-Tip website at www.wetip.com.
Refer:Deputy M. Izquierdo
Station:Fontana Sheriff's Station
Phone No.(909) 356-6767
Case No.031800934
John McMahon, Sheriff-Coroner
San Bernardino County Sheriff-Coroner Department
Sheriff's Public Affairs Division
655 E. Third Street
San Bernardino, California 92415-0061
Telephone: (909) 387-3700