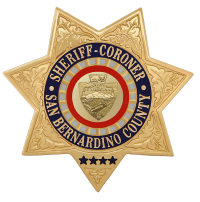 San Bernardino County Sheriff's Department
Press Release
DATE/TIME: May 6, 2018, 1:45 a.m.
INCIDENT: PC 496d(a) Possession of Stolen Vehicle / PC 530.5 Unlawful use of Identity
LOCATION: Hawthorne Ave and Palm Lane, Fontana
SUSPECT: Angelica Fuentes, 33 years old, resident of Fontana
SUMMARY:
On May 6, 2018, Deputy G. Jimenez conducted a traffic stop on Hawthorne Avenue and Palm Lane on a 2012 black Chevrolet Silverado, and it was found to be reported stolen.
During the vehicle theft investigation, deputies arrested the driver, Angelica Fuentes. During the search of the vehicle, deputies located methamphetamine, tax statements belonging to other people and credit cards, which did not belong to her. Fuentes told deputies she had more credit cards and social security cards, which did not belong to her at her residence.
With the information gathered during the traffic stop, deputies authored and served a search warrant at Fuentes's residence located in the 9600 block of Laurel Avenue, Fontana. During a search of the residence, deputies located methamphetamine, credit cards, social security cards, bank statements, tax statements and equipment to make fraudulent money orders. Angelica Fuentes was arrested and booked at Central Detention Center for PC 496d(a) possession of stolen vehicle and PC 530.5 unlawful use of identity.
Anyone with information is urged to contact Deputy G. Jimenez or Fontana Sheriff's Station Detectives (909) 356-6767. Callers wishing to remain anonymous are urged to call the We-Tip Hotline at 1(800) 78-CRIME (27463), or you may leave information on the We-Tip Hotline at www.wetip.com.
Refer: Deputy G. Jimenez
Station: Fontana Station
Phone No. (909) 356-6767
Case No. 031801222
JOHN McMAHON, Sheriff-Coroner
San Bernardino County Sheriff-Coroner Department