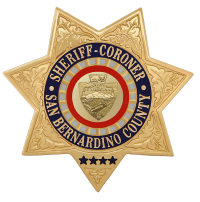 San Bernardino County Sheriff's Department
Press Release
DATE/TIME: April 10, 2018 / 3:09 PM
INCIDENT: PC 459 – Residential Burglary
LOCATION: 2600 Block of North Mountain Avenue, San Antonio Heights
SUSPECT(S): Ian Forrester Bushee, 36 year-old, transient
Malissa Deanna James,25 year-old, transient
Summary
On April 10, 2018, at 3:09 p.m., a San Antonio Heights resident arrived home and interrupted two suspects as they were burglarizing his residence.After being confronted by the homeowner, the suspects fled the residence with thousands of dollars' worth of jewelry and electronics.
Deputy R. Farrow arrived at the victim's residence and conducted the investigation.Through follow-up investigation and descriptions provided by the victim, Farrow identified the suspects as Ian Forrester Bushee and Malissa Deanna James, whom he previously contacted. He identified them as transients, known to frequent San Antonio Heights.
Montclair Police Officer B. Martin and a tracking canine assisted and helped locate a substantial amount of stolen property near the victim's residence. Later in the day, Farrow located Bushee and James near Mt. Baldy Road.Upon contact, Bushee attempted to discard a sock containing over $70,000 worth of collector coins and James was found with additional stolen property belonging to the victim.Bushee and James were arrested for burglary and transported to West Valley Detention Center for booking.
If anyone witnessed the incident or has additional information, please contact the San Bernardino Sheriff Department Fontana Sheriff's Station, 909-356-6767. Callers wishing to remain anonymous may contact the We-Tip Hotline at 1-800-78-CRIME (27463) or you may leave information on the We-Tip website at www.wetip.com.
Refer:Deputy R. Farrow
Station: Fontana
Phone No.(909) 356-6767
Case No.031800961
John McMahon, Sheriff-Coroner
San Bernardino County Sheriff-Coroner Department
Sheriff's Public Affairs Division
655 E. Third Street
San Bernardino, California 92415-0061
Telephone: (909) 387-3700