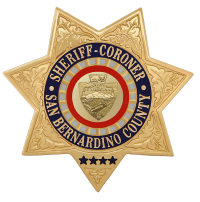 San Bernardino County Sheriff's Department
Press Release
DATE/TIME: April 12, 2018, at approximately 9:00 a.m.
INCIDENT: Indoor Marijuana Grow / Theft of Utilities
LOCATION: 10800 block of Meadowlark Avenue, Oak Hills
SUSPECT(S): **Ongoing Investigation**
VICTIM(S):
Summary
On Thursday, April 12th, at approximately 9:00 a.m., the Sheriff's Gangs/Narcotics Division – Marijuana Enforcement Team (MET) served a search warrant at a residence in the 10800 block of Meadowlark Avenue, in Oak Hills. Over 1500 marijuana plants, in various stages of growth, were found inside. The grow operation used advanced lighting, air conditioning, fans, exhaust blowers and an air filtering system to control the climate inside the residence, as well as the odor of marijuana coming from it.
Investigators discovered electricity at the location was being stolen. Personnel from Southern California Edison (SCE) assisted in the electrical theft investigation. Suspects who grow marijuana illicitly will commonly bypass the electrical meter installed by the electrical company. This is done due to the high amount and cost of electricity needed to operate the marijuana growing equipment.
The extreme measusres used to illegally grow marijuana endangers the public living nearby. An electrical short caused by the unpermitted electrical wiring most likely would have resulted in an explosion or fire in the residential community, causing possible injuries. The electrical power to the residence will be disconnected so the faulty wiring and eletrical bypass will not create a hazard for the public. The loss from the theft of electricity at this location will be several thousands of dollars.
The suspect(s) will face charges of Cultivation of Cannabis; over 6 plants and Utility Theft.
Anyone with information regarding this investigation is urged to contact the Sheriff's Gangs/Narcotics Division at (909) 387-8400 or NARC-MET@sbcsd.org. Callers wishing to remain anonymous are urged to call the We-tip Hotline at 1-800-78-CRIME (27463) or you may leave information on the We-Tip Hotline at www.wetip.com.
Refer: Sheriff's Public Affairs
Station:
Phone No. (909)387-3700
Case No. DR #: 651800168
John McMahon, Sheriff-Coroner
San Bernardino County Sheriff-Coroner Department
Sheriff's Public Affairs Division
655 E. Third Street
San Bernardino, California 92415-0061
Telephone: (909) 387-3700