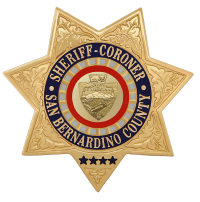 San Bernardino County Sheriff's Department
Press Release
DATE/TIME: January 19, 2018 / 3:14 p.m.
INCIDENT: Attempt Murder
LOCATION: Grand Terrace
SUSPECT: Marcos Cardenas, 19 years old, resident of Grand Terrace
Summary
On January 19, 2018 at 3:14 p.m. Deputy R. Perez responded to the incident location in reference to a shooting. During the investigation, deputies learned a male victim was shot once in the stomach by Marcos Cardenas, after a dispute over a female. Cardenas fled the scene and the victim was transported to a local hospital, where he underwent emergency surgery. The victim was listed in stable condition.
At 11:06 p.m., Deputy L. Sandoval responded again to the location after neighbors reported Cardenas was back at the location. Cardenas fled from Deputies and was later apprehended after he was found hiding behind a building. Deputies located the gun they believed used in the crime in a nearby field.
Cardenas was transported to the West Valley Detention Center and booked for attempt murder.
Refer: Deputy Raymond Perez
Station: Central Station
Phone No. (909)884-0156
Case No. 151800055
John McMahon, Sheriff-Coroner
San Bernardino County Sheriff-Coroner Department
Sheriff's Public Affairs Division
655 E. Third Street
San Bernardino, California 92415-0061
Telephone: (909) 387-3700