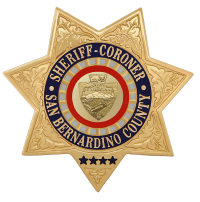 San Bernardino County Sheriff's Department
Press Release
DATE/TIME: January 11, 2018 / 3:00 pm
INCIDENT: PC 264.3, Negligent Discharge of a Firearm
PC 246, Shooting at an Inhabited Dwelling
PC 20510, Felon in possession of Ammunition
PC 273a, Child Endangerment
LOCATION: 11800 block of Burns Ave., Grand Terrace
SUSPECT(S): Mario Ruiz, 40-year-old resident of Grand Terrace
VICTIM(S): Confidential
Summary
On January 11, 2018, deputies responded to a call of shots heard in the 11800 block of Burns Ave. The caller said they saw a man named "Mario" shooting a gun. When deputies arrived, they saw Mario Ruiz had a black handgun as he ran inside the residence. Additional deputies arrived, and a perimeter was established around the neighborhood. Ruiz left the house through the back door and ran through a field to a neighboring house. A short time later, a resident told a deputy on the perimeter that a suspicious person was sitting on their porch. Deputies contacted the man and it was Mario Ruiz, he was taken into custody.
During a search of the house, deputies found Northside Colton gang graffiti along with ammunition and numerous weapons. Deputies discovered a female and her children also reside at the residence and were inside the house when Ruiz was firing the gun.
Deputy Swanson arrested Ruiz for Discharging a firearm at a residence, Negligently discharging a firearm, a Felon in possession of ammunition and Child Endangerment. Ruiz is a known gang member from Northside Colton with the moniker of "Chuco." Ruiz was booked into the Central Detention Center.
Anyone with information regarding this investigation is asked to contact the Central Station. Callers wishing to remain anonymous are urged to call the We-tip Hotline at 1-800-78-CRIME (27463) or you may leave information on the We-Tip Hotline at www.wetip.com.
Refer: Deputy S. Swanson
Station: Central Station
Phone No. (909) 387-3545
Case No. 121800028
John McMahon, Sheriff-Coroner
San Bernardino County Sheriff-Coroner Department
Sheriff's Public Affairs Division
655 E. Third Street
San Bernardino, California 92415-0061
Telephone: (909) 387-3700