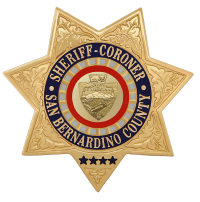 San Bernardino County Sheriff's Department
Press Release
DATE/TIME: February 21, 2018 / 10:40 am
INCIDENT: PC 626.9 Possession of a Firearm in School zone.
LOCATION: Cage Park, Main St., and Taylor St., Grand Terrace
SUSPECT(S): Riche Santiago, 28-year-old transient of Grand Terrace
Summary
On February 21, 2018, at approximately 10:40 am, Deputy Clayton Brandt was conducting an investigation regarding possible transient subjects trespassing into an abandoned steel building. Brandt went to a location across from Grand Terrace High School known as Cage Park on the corner of Taylor Street and Main Street in Grand Terrace. Brandt contacted three subjects who were camping inside the building and instructed them to come outside of the building. Suspect, Riche Santiago, fled when he came outside and ran westbound through the park to avoid capture. After a brief foot pursuit, Santiago was taken into custody. Santiago was found to have a no bail warrant for his arrest for possession of stolen property.
Deputy Brandt searched the building for property belonging to Santiago and located a sawed-off shotgun, shotgun shells and over a pound of marijuana. The park is across the street from the high school within the 1000 feet limit. Riche Santiago was arrested for his warrant and possession of a gun in a school zone. Santiago was booked into the Central Detention Center.
Anyone with information regarding this investigation is urged to contact the San Bernardino County Sheriff's Department. Callers wishing to remain anonymous are urged to call the We-tip Hotline at 1-800-78-CRIME (27463) or you may leave information on the We-Tip Hotline at www.wetip.com.
Refer: Deputy C. Brandt
Station: Central Station
Phone No. (909) 387-3545
Case No. 121800161
John McMahon, Sheriff-Coroner
San Bernardino County Sheriff-Coroner Department
Sheriff's Public Affairs Division
655 E. Third Street
San Bernardino, California 92415-0061
Telephone: (909) 387-3700