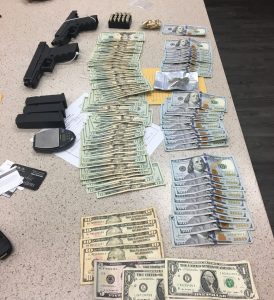 DATE/TIME: July 27, 2018 / 11:18 a.m.
INCIDENT: HS 11359 Possession of Marijuana for Sales and HS 11370.1 Possession of Narcotics While Armed
LOCATION: Barton Rd and Mt Vernon Avenue, Grand Terrace
SUSPECT: Jordan Love, 22 years old, Riverside resident
SUMMARY:
On July 27, 2018, Deputy P. Casas, from the Sheriff's Central Station, Grand Terrace patrol, conducted a vehicle check in front of the Walgreens located at Barton Rd and Mt Vernon Avenue. Casas contacted a subject identified as Jordan Love, and during his contact with Love, Casas located two loaded firearms, an electronic scale, marijuana for sales, narcotics and a large quantity of U.S. currency. Love was arrested for HS 11359 Marijuana Sales, HS 11350(a) Possession of Narcotics and HS 11370.1(a) Possession of Narcotics While armed. Love was booked into Central Detention Center.
Anyone with information regarding this incident is urged to contact Central station at (909)387-3545. Callers wishing to remain anonymous are urged to call We-Tip Hotline at 1-800-78-CRIME (27463) or you may leave information on the website at www.wetip.com.
Refer: Deputy P. Casas
Station: Central Station
Phone No. (909)387-3545
Case No. 121800699
JOHN McMAHON, Sheriff-Coroner
San Bernardino County Sheriff-Coroner Department