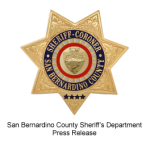 DATE/TIME: August 21, 2018       7:00 a.m.
INCIDENT:    Outdoor Marijuana Grow
LOCATION:   Coldwater Canyon, San Bernardino National Forest
SUSPECT(S): Unknown
SUMMARY:
On Tuesday, August 21, 2018 at approximately 7:00 a.m., investigators from the San Bernardino County Sheriff's Department – Marijuana Enforcement Team partnered with members of the U.S. Forest Service and the Department of Fish and Wildlife in a collaborative effort, as part of the CAMP (Campaign Against Marijuana Planting) program, to investigate an illegal marijuana grow in the San Bernardino National Forest.  During the operation, investigators located two large plots of marijuana growing in the forest near Coldwater Canyon.  The area is located several miles south of the community of Crestline and south of Highway 18.  Camping equipment and large amounts of trash were also located, showing the suspects had been living near, and caring for, the large marijuana grow.
Investigators believe members of illegal drug trafficking organizations are responsible for the marijuana grows found in the National Forest.  The suspects cleared away the natural foliage to facilitate the cultivation, which causes irreversible damage to the forest.  Natural water sources, such as creeks and streams, serve as a water supply for the grow sites.  Often times, the suspects will use fertilizers and toxic pesticides, some of which have been outlawed in the United States.  These substances can seep into the ground and contaminate the ground water and impact natural wildlife.
Investigators seized 4834 marijuana plants from the illegal grow sites.  There is no suspect information at this time.
Law enforcement officials caution the public to remain alert when hiking in the forest.  Some people use marked trails, while others wander away from these trails.  Should you discover a marijuana cultivation while hiking in the forest, get out of the area and contact law enforcement immediately.
Anyone with information regarding this investigation or is urged to contact the Sheriff's Gangs/Narcotics Division at (909)387-8400 or NARC-MET@sbcsd.org. Callers wishing to remain anonymous are urged to call the We-tip Hotline at 1-800-78-CRIME (27463) or you may leave information on the We-Tip Hotline at www.wetip.com.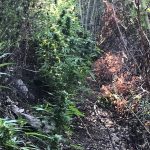 Refer:             Sheriff's Public Affairs
Phone No.     (909)387-3700
Case No.       DR #: 651800376
JOHN McMAHON, Sheriff-Coroner
San Bernardino County Sheriff-Coroner Department