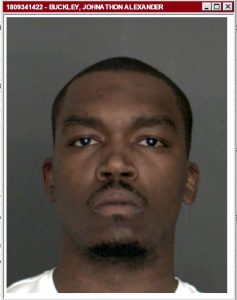 DATE/TIME: September 12, 2018/5:00 pm
INCIDENT: Felony Pandering of an Adult
LOCATION: 18000 Block of Valley Blvd,. Bloomington
SUSPECT: Johnathan Alexander Buckley, 25 year old male resident of Corona
VICTIM(S): People of the State of California
SUMMARY: On Wednesday, September 12, 2018, members of the San Bernardino County Human Trafficking Task Force, working in conjunction with MET deputies from the Fontana Station, conducted an in-call "John" operation at a motel near the 18000 block of Valley Blvd. During the operation, undercover officers posed as prostitutes related to a fictitious online advertisement, posted on a well-known site for the solicitation of prostitution. Undercover officers received multiple responses to the advertisement where deals of sexual acts in exchange for money were made. While responding to the solicitations, an undercover officer was contacted by a male, later identified as Johnathan Buckley, who began pandering the officer to work for him as a prostitute. Based upon the content of the conversation she had with Buckley, the officer believed he was directly involved in human trafficking, and agreed to a meeting with him. Buckley arrived at the agreed location to meet and procure the undercover officer for prostitution. Upon his arrival, he was identified by assisting deputies who conducted a traffic stop on the vehicle he was driving and taken into custody without incident.  He was taken to the Fontana Sheriff's Station for additional investigation and interview.  He was subsequently arrested and transported to West Valley Detention Center, where he was booked for Felony violation of PC 266i- Pandering. He is currently being held in lieu of $100,000 bail.
During the investigation it was discovered that Buckley was currently out on bail for violation of PC 664/187- Attempted Homicide, which originated out of the City of Ontario in March of 2017.
The San Bernardino County Human Trafficking Task Force is made up of investigators from the San Bernardino County Sheriff's Department, San Bernardino County District Attorney's Office, San Bernardino Police Department, Ontario Police Department, San Bernardino Unified School District Police, California State Parole, Office of Homeland Security and the Federal Bureau of Investigation.
This investigation is ongoing. Investigators believe there are other unidentified victims related to this case and are asking that anyone with information related to this investigation, please contact the San Bernardino County Human Trafficking Task Force at (909)387-8400. Anyone wishing to remain anonymous may contact We-Tip at 1-888-78-CRIME or you may leave information on the WE-Tip Hotline at www.wetip.com.
Refer: Dep. S. Swanson/Corp. N. Lefler
Station: San Bernardino County Human Trafficking Task Force
Phone No. (909) 387-8400
Case No. 621800281
JOHN McMAHON, Sheriff-Coroner
San Bernardino County Sheriff-Coroner Department