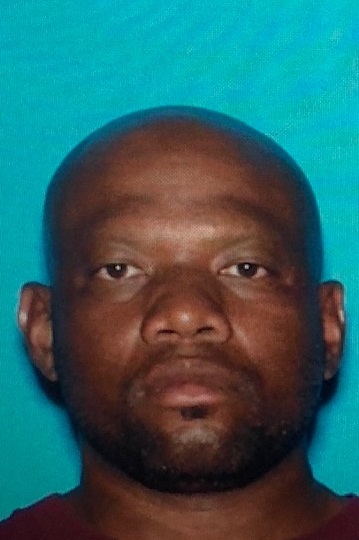 DATE/TIME: July 16, 2019 5:29 a.m.
INCIDENT: Felony Evading / Attempt Murder of a Peace Officer / Deputy Involved Shooting
LOCATION: Santa Fe Ave./Hesperia Rd., Hesperia
SUSPECT: Leaire Moore, 43 years old, resident of Hesperia
VICTIM: San Bernardino County Deputy Sheriff
SUMMARY:
On Tuesday, July 16, 2019 at 5:29 a.m. a deputy responded to a suspicious circumstance call with the resident reporting possible illegal dumping in the area of Orchid Ave./Hackberry St. When the deputy arrived, he saw an older Chevy truck, as described by the reporting party, and the driver quickly left the scene. The deputy attempted a traffic stop and the driver did not yield. A short pursuit ensued and the driver stopped on E. Santa Fe Ave. near Darwin Rd. As the deputy approached, the driver drove toward the deputy and a deputy involved shooting occurred. The driver drove away and launched the vehicle over the railroad tracks where it became disabled. The driver and female passenger fled on foot and the female was detained nearby.
Investigators from the Homicide Detail and the Specialized Enforcement Division(SED) responded and a search for the driver was initiated. During the investigation, Detectives identified the driver as Leaire Moore. Detectives gathered information that indicates Moore may be in possession of a firearm. Deputies, K-9's and aviation units tracked Moore for several hours but were unable to locate him.
Moore is outstanding and an arrest warrant has been issued for him for Attempt Murder of a Peace Officer. He is considered an armed and dangerous suspect.
It is unknown if Moore was injured during the shooting. The deputy, nor the passenger, sustained any injuries.
The investigation is ongoing and anyone with information regarding Moore's whereabouts is urged to contact Detective David Lara, Specialized Investigations Division – Homicide Detail at (909)387-3589 or Sheriff's dispatch at (760)956-5001. Callers can remain anonymous and contact WeTip at 800-78CRIME or www.wetip.com.
Refer: Sergeant Scott Thies or Detective David Lara
Station: Specialized Investigations Division – Homicide Detail
Phone No. (909)387-3589
Case No. DR#191904917 H#2019-059
JOHN McMAHON, Sheriff-Coroner
San Bernardino County Sheriff-Coroner Department